⟚✹ #FLOWFESTIVAL ❂⩶ ❇✧ #FLOWFESTIVAL ⟚✹ #FLOWFESTIVAL ❂⩶ ❇✧ #FLOWFESTIVAL ⟚✹ #FLOWFESTIVAL ❂⩶ ❇✧ #FLOWFESTIVAL ⟚✹ #FLOWFESTIVAL ❂⩶ ❇✧ #FLOWFESTIVAL ⟚✹ #FLOWFESTIVAL ❂⩶ ❇✧ #FLOWFESTIVAL ⟚✹ #FLOWFESTIVAL ❂⩶ ❇✧ #FLOWFESTIVAL ⟚✹ #FLOWFESTIVAL ❂⩶ ❇✧ #FLOWFESTIVAL ⟚✹ #FLOWFESTIVAL ❂⩶ ❇✧ #FLOWFESTIVAL ⟚✹ #FLOWFESTIVAL ❂⩶ ❇✧ #FLOWFESTIVAL ⟚✹ #FLOWFESTIVAL ❂⩶ ❇✧ #FLOWFESTIVAL ⟚✹ #FLOWFESTIVAL ❂⩶ ❇✧ #FLOWFESTIVAL ⟚✹ #FLOWFESTIVAL ❂⩶ ❇✧ #FLOWFESTIVAL ⟚✹ #FLOWFESTIVAL ❂⩶ ❇✧ #FLOWFESTIVAL ⟚✹ #FLOWFESTIVAL ❂⩶ ❇✧ #FLOWFESTIVAL ⟚✹ #FLOWFESTIVAL ❂⩶ ❇✧ #FLOWFESTIVAL ⟚✹ #FLOWFESTIVAL ❂⩶ ❇✧ #FLOWFESTIVAL ⟚✹ #FLOWFESTIVAL ❂⩶ ❇✧ #FLOWFESTIVAL ⟚✹ #FLOWFESTIVAL ❂⩶ ❇✧ #FLOWFESTIVAL ⟚✹ #FLOWFESTIVAL ❂⩶ ❇✧ #FLOWFESTIVAL ⟚✹ #FLOWFESTIVAL ❂⩶ ❇✧ #FLOWFESTIVAL ⟚✹ #FLOWFESTIVAL ❂⩶ ❇✧ #FLOWFESTIVAL ⟚✹ #FLOWFESTIVAL ❂⩶ ❇✧ #FLOWFESTIVAL ⟚✹ #FLOWFESTIVAL ❂⩶ ❇✧ #FLOWFESTIVAL ⟚✹ #FLOWFESTIVAL ❂⩶ ❇✧ #FLOWFESTIVAL ⟚✹ #FLOWFESTIVAL ❂⩶ ❇✧ #FLOWFESTIVAL ⟚✹ #FLOWFESTIVAL ❂⩶ ❇✧ #FLOWFESTIVAL
2

0

1

9
Where and when? Helsinki, Suvilahti. From Friday 'til Sunday, 9.-11.8.2019.
Visitors: 83 000
Stages: 11
Artists: 174
Highlights: Tame Impala's, The Cure's and Solange's performances on the main stage equipped with a dazzling new panorama screen.
Website: http://archive.flowfestival.com/2019/en/ (Please note that some imagery or links might not work correctly on the archived site.)
In 2019, Flow took over Suvilahti from the 9th to the 11th of August. The main stage had a new feature: an unprecedented, gigantic panorama screen, giving an even more impressive audio-visual gig experience – the new screen was in full bloom, e.g. during Tame Impala's show on Saturday night. The Cure stirred Sunday night mayhem by serving the audience solid hits for over two hours. Friday was dedicated to two absolute queens: the Flow audience won't forget Erykah Badu's and Solange's main stage gigs any time soon. All in all, the 83 000 festival-goers were spoilt with over 170 performers, such as Robyn, James Blake, Modeselektor, Tove Lo, Earl Sweatshirt, Father John Misty, Blood Orange, Nina Kraviz, Slowthai, Big Thief, Khruangbin, Mitski, Pharoah Sanders, Nubya Garcia, Yves Tumor, Ville Valo & Agents, Ibe, Chisu, Gasellit and Jesse Markin. For the full lineup, please see the bottom of the page.
Flow's arts program expanded outside the festival, when Flow visited the Almi Hall at The Finnish National Opera on Wednesday and Thursday, 7th and 8th of August. Flow x Opera showcased an award-winning contemporary dance piece called Autobiography Edits, a joint effort by the British choreographer Wayne McGregor and the American electronic music visionary Jlin. Sinjin Hawke and Zora Jones's performance, which combines experimental music and audio-visual art, was also seen at the Opera.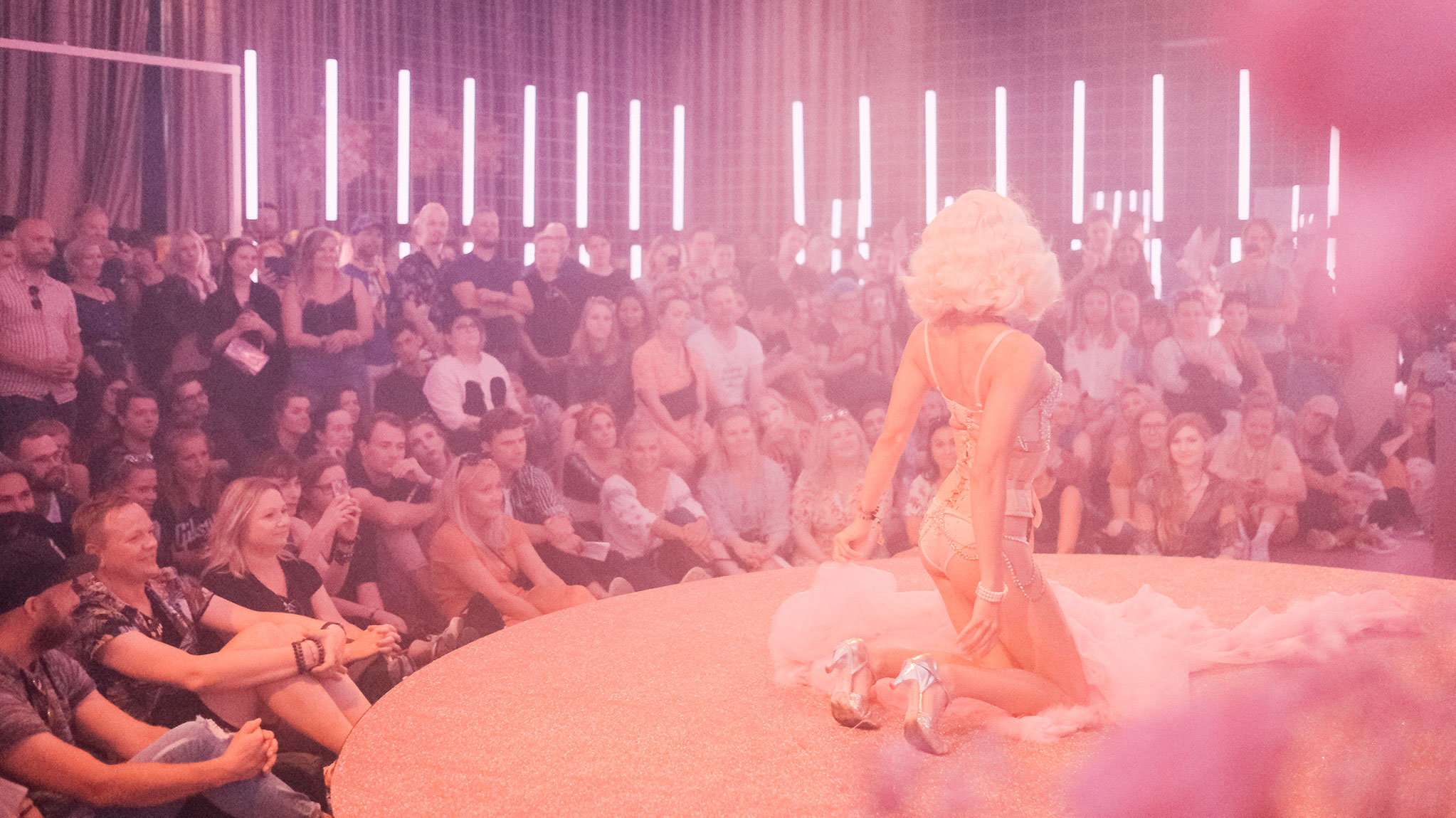 Suvilahti, too, saw some incredible art initiatives. Pink Space, designed and curated by DJ/artist Taika Mannila and interior architect Fanni Suvila, was dedicated to diversity. The pleasant space hosted dozens of performances, ranging from burlesque, spoken word and audio art to poetry and video art. Performance art was also part of the experimental music program The Other Sound when Tuomas A Laitinen's performative installation Cryptospores came to life as an experience resembling a live show.
From its inception, sustainability and environmental issues have formed a considerable part of Flow's ethos. In 2019, the international press noted this in a big way. Independent, Consequence of Sound, NME, The Quietus, The Line Of Best Fit and Vogue Italy were just a few of the publications that praised Flow for its responsible practices. Flow has calculated the festival's carbon footprint together with Pöyry Finland Ltd since 2009. In 2019 the carbon footprint was compensated with a Gold Standard certified reforestation campaign in Panama.
In 2019, also the carbon handprint was calculated. Climate-friendly decisions, such as using green energy, recycling, long-term continual production solutions and efficient waste management, were estimated to have saved the festival approximately 49,5 tonnes of greenhouse gas emissions. All of the year's sustainability goals were met, and the process of calculating the carbon handprint will have long-term positive effects on developing the festival as a whole. Flow Festival also requires its suppliers, partners and food vendors to commit to its sustainability requirements.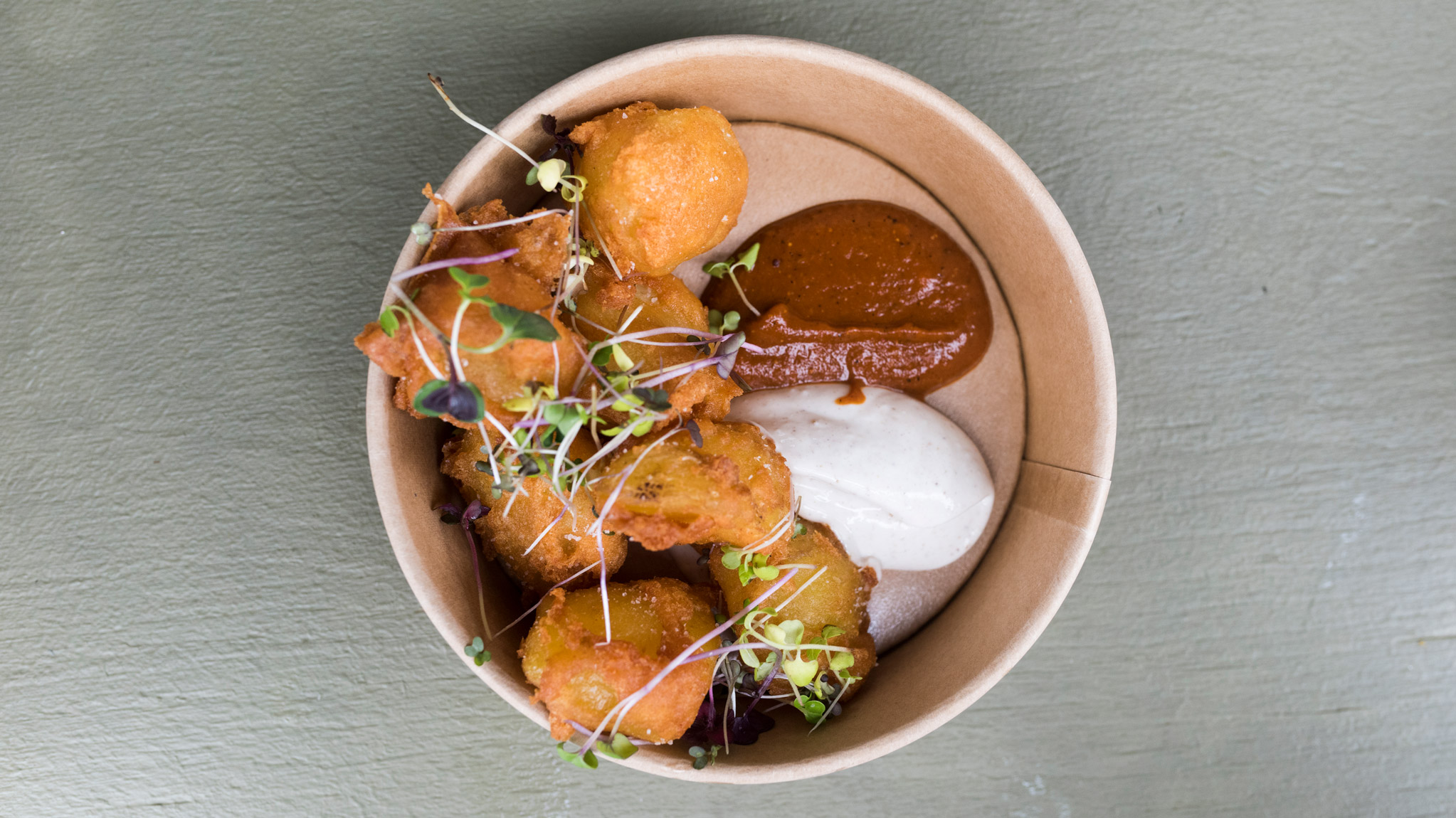 In addition to improving its sustainability development, Flow encouraged its visitors to act too. A record number of vegetarian, vegan and ecological Sustainable Meal dishes were sold. Of all the meals sold at the festival, 50% were vegetarian or vegan, and 24% Sustainable Meal certified. When purchasing a festival ticket, Flow offered a chance to donate money to protect the Baltic Sea. In 2019, ticket buyers donated € 7 957. Visitors could also donate their beverage deposits to the Finnish Association for Nature Conservation's reforestation project. The deposit campaign, executed together with Flow's partner Reaktor, resulted in 11 869 trees being planted in Madagascar.
At the Music & Media Industry Awards gala, Flow Festival 2019 won in "the Festival of the Year" category.
Said about Flow:
«The festival takes its sustainability ethos to the next level.»
– Independent

«Flows brings A-list talent to the most-eco friendly festival in Europe.»
– The Line of Best Fit

«Helsinki's Flow Festival has nicely positioned itself as one of Europe's best music events whilst also retaining something of an undiscovered charm to it.»
– The Quietus
Photos: © Petri Anttila, Konstantin Kondrukhov, Hayley Lê, Antti Närhi, Samuli Pentti and Riikka Vaahtera.
Continue your trip down memory lane:
Watch photos: See all Flow Festival 2019 photos on Flickr
Check out videos: Official Flow Festival 2019 YouTube playlist
Read the magazine: Browse the 2019 Flow magazine
Browse the archived website:
http://archive.flowfestival.com/2019/en/
Please note that some imagery or links might not work correctly on the archived site.
Listen to the official Flow Festival 2019 playlist on Spotify:

Flow Festival 2019 artists in alphabetical order:
12 Months Of Pride
Aïsha Devi
Alma – Have U Seen Her?
Amnesia Scanner
Ana Gutieszca
Ash Lauryn
Astrid Swan & Stina Koistinen Feat. Owen Pallett
Aura Nurmi & Emilia Mäenmaa: Angela
Baba Stiltz
Bcuc
Bendik Giske
Bernardino Femminielli (Live)
Betty Fvck: The Fvck Show
Between
Big Thief
Bizi, F & Sitoi
Blood Orange
Carista
Casio G Url (Live)
Ccl
Chisu – Momentum 123
Cinquantesix
Coco Ninja
Company Wayne Mcgregor & Jlin
Cüneyt Sepetçi
D. Tiffany
Darryn Jones
Denzel & J.Lindroos
Disco Obscura
Dj Aleksi & Skenikswee
Dj Irma & Helmz
Dj Python (Live)
Dj Renaz
Dj Wekesa
Dj Yeboyah
Donato Dozzy
Dream 2 Science (Live)
Dustin Muchuvitz
Earl Sweatshirt
Electronic Market
Elias Gould
Elifantree
Elsa Tölli: Harmonian Korina / Harmony Korine
Emkay
Erykah Badu
Eva Geist (Live)
Eva-Liisa Orupõld: Bees & Honey
Family Sunday's lineup
Father John Misty
Fecal Matter
Flohio
Fred P
Gabber Eleganza – The Hakke Show
Gasellit
Hannu Salama & Vapaat Radikaalit
Henrik!
House Of Auer
House Of Disappointments
House Of Mizrahi Finland
Ibe Special
Iisa
Irene Kostas & Fummer
J. Karjalainen
Jaakko Eino Kalevi
James Blake
Janne X
Jenny Om & Handshaking
Jeremy Spellacey
Jesse Markin
Jlin Av With Theresa Baumgartner
Jonathan Wilson
Juliana Huxtable
Julius
Jussi Niskanen
Juuso Tervo
K-Hand
Kalista: Gliese 504B
Kalle Karvanen
Karina
Karoliina Pärnänen
Katakombi
Katerina B2B Linda Lazarov
Katu Kaiku
Kelly Moran
Khruangbin
Kick Back: Very Connected
Kiddy Smile
La Persé Feat. Ray Noir
Lanark Artefax (Live)
Lara Silva
Lassi Jahnsson
Laura Eklund Nhaga: I Am (Not)
Lauri Soini
Leroy Burgess Full Band
Levon Vincent
M
Maarja Nuut & Ruum
Mafalda
Makaya Mccraven
Maria Wesander
Mary Lattimore
Maustetytöt
Milk
Mitja Nylund: Oratory
Mitski
Mixed Feelings
Modeselektor (Live)
My Neck My Back
Nao
Natalia Kallio: She Needs Bigger Boots
Nayab Ikram: Mehndi & Vicks
Neneh Cherry
Niko Hallikainen: Low Income Glow
Nina Kraviz
Nitzer Ebb
Nosedrip
Nubya Garcia
Nyege Nyege: Bamba Pana & Makaveli + Kampire
Nyky Ensemble Plays John Cage
Olli Koponen
Oopperan Pop-Up -Kirppis
Ottopetteri & Krash Bandicute
P(In)K
Palms Trax
Pariisin Kevät
Pehmee: So Bad – Beautiful Active Destruction
Pekko Käppi & K:H:H:L
Peu (Live)
Pharoah Sanders Quartet
Pond
Pyhimys – Neljä Vuodenaikaa: Kesä
Quadrivium
Raw Silk
Robyn
Ruusut
Saba Alizadeh
Sansibar
Sasu Kauppi (Live)
Sebastian Holm & Marju
Seinabo Sey
Senzei
Sinjin Hawke & Zora Jones
Skidit Mega Disko
Slaya Bit
Slowthai
Sofa
Solange
Stereolab
Suad
Tame Impala
Tapa Paha Tapa (Live)
Teemu Keisteri
The Black Madonna
The Cure
The Holy
The Iconic House Of Ninja: Pink Like The Color Of…
Theo Parrish
Timo Lassy & Teppo Mäkynen
Tomi K
Tommy Genesis
Tone B. Nimble
Tove Lo
Tristero Piano Trio
Tuomas A Laitinen: Cryptospores
Uha
Valesuchi
Vessel Feat. Pedro Maia (Live Av)
Ville Valo & Agents
Willikens & Ivkovic
Yu Chuan
Yves Tumor
Zoukous
Огни (Live)