⟚✹ #FLOWFESTIVAL ❂⩶ ❇✧ #FLOWFESTIVAL ⟚✹ #FLOWFESTIVAL ❂⩶ ❇✧ #FLOWFESTIVAL ⟚✹ #FLOWFESTIVAL ❂⩶ ❇✧ #FLOWFESTIVAL ⟚✹ #FLOWFESTIVAL ❂⩶ ❇✧ #FLOWFESTIVAL ⟚✹ #FLOWFESTIVAL ❂⩶ ❇✧ #FLOWFESTIVAL ⟚✹ #FLOWFESTIVAL ❂⩶ ❇✧ #FLOWFESTIVAL ⟚✹ #FLOWFESTIVAL ❂⩶ ❇✧ #FLOWFESTIVAL ⟚✹ #FLOWFESTIVAL ❂⩶ ❇✧ #FLOWFESTIVAL ⟚✹ #FLOWFESTIVAL ❂⩶ ❇✧ #FLOWFESTIVAL ⟚✹ #FLOWFESTIVAL ❂⩶ ❇✧ #FLOWFESTIVAL ⟚✹ #FLOWFESTIVAL ❂⩶ ❇✧ #FLOWFESTIVAL ⟚✹ #FLOWFESTIVAL ❂⩶ ❇✧ #FLOWFESTIVAL ⟚✹ #FLOWFESTIVAL ❂⩶ ❇✧ #FLOWFESTIVAL ⟚✹ #FLOWFESTIVAL ❂⩶ ❇✧ #FLOWFESTIVAL ⟚✹ #FLOWFESTIVAL ❂⩶ ❇✧ #FLOWFESTIVAL ⟚✹ #FLOWFESTIVAL ❂⩶ ❇✧ #FLOWFESTIVAL ⟚✹ #FLOWFESTIVAL ❂⩶ ❇✧ #FLOWFESTIVAL ⟚✹ #FLOWFESTIVAL ❂⩶ ❇✧ #FLOWFESTIVAL ⟚✹ #FLOWFESTIVAL ❂⩶ ❇✧ #FLOWFESTIVAL ⟚✹ #FLOWFESTIVAL ❂⩶ ❇✧ #FLOWFESTIVAL ⟚✹ #FLOWFESTIVAL ❂⩶ ❇✧ #FLOWFESTIVAL ⟚✹ #FLOWFESTIVAL ❂⩶ ❇✧ #FLOWFESTIVAL ⟚✹ #FLOWFESTIVAL ❂⩶ ❇✧ #FLOWFESTIVAL ⟚✹ #FLOWFESTIVAL ❂⩶ ❇✧ #FLOWFESTIVAL ⟚✹ #FLOWFESTIVAL ❂⩶ ❇✧ #FLOWFESTIVAL ⟚✹ #FLOWFESTIVAL ❂⩶ ❇✧ #FLOWFESTIVAL
2

0

1

5
Where and when? Suvilahti, Helsinki. Over three days, 14.-16.8.2015
Visitors: 70 000
Stages: 9
Artists: 133
Highlights: Flow Festival went global: it expanded to Ljubljana and hosted a Flow pop-up event in London
Website: http://archive.flowfestival.com/2015/en/ (Please note that some imagery or links might not work correctly on the archived site.)
Flow had firmly rooted itself in Suvilahti, and in 2015 the festival took place from the 14th to 16th of August. Its record-breaking 70 000 visitors enjoyed the guaranteed Flow magic – brilliant music, good food, happy people, essential talks and inspiring art – as sustainably as possible.
Some of the shiniest artist highlights were, e.g. UK's mega-popular Florence + The Machine, the alternative rock ambassador Beck, the synthpop icons Pet Shop Boys and one of the most crucial rappers of the decade Tyler, The Creator. Other notable names included Major Lazer, CHIC featuring Nile Rodgers, Roísín Murphy, Alt-J, The War on Drugs, Belle and Sebastian, Future Islands, Years & Years, Skepta, Run The Jewels, Diplo, Flying Lotus, Tove Lo, Todd Terje & The Olsens, Seinabo Sey, Lianne La Havas, Ride, Grouper, Foxygen, Elliphant, Songhoy Blues, Islam Chipsy, Natalie Prass, Kakkmaddafakka, Nina Kraviz, Tiga, Seth Troxler, Dixon, Evian Christ, ILoveMakonnen, The Space Lady, Lännen-Jukka, Paperi T, Seksihullut and Likanen Etelä. For the full lineup, please see the bottom of the page.
In addition to its long-standing sustainability efforts, Flow piloted a new initiative called Sustainable Meal. Flow's food vendors were educated on sustainable practices and encouraged to develop sustainable meals for the festival audience. The best Sustainable Meal was selected by the visitors and a handful of restaurant experts and foodies.
Another new addition to the festival in 2015 was Art Laboratory, located in Oranssi's building. This art space hosted a daily program curated by the University of the Arts Helsinki. "The Visual Artist of the Year", known for her Mammutti sculpture in Kalasatama, Riitta Kopra, built Monoceros 1 near the festival gates. The piece, a moon rocket, was made of leftover materials from the previous festival years. Art and sustainability also merged at the space between Tiivistämö and gasometer: Eden, a charming green spot covered in plants, offered visitors non-alcoholic drinks and delicious plant-based and raw food.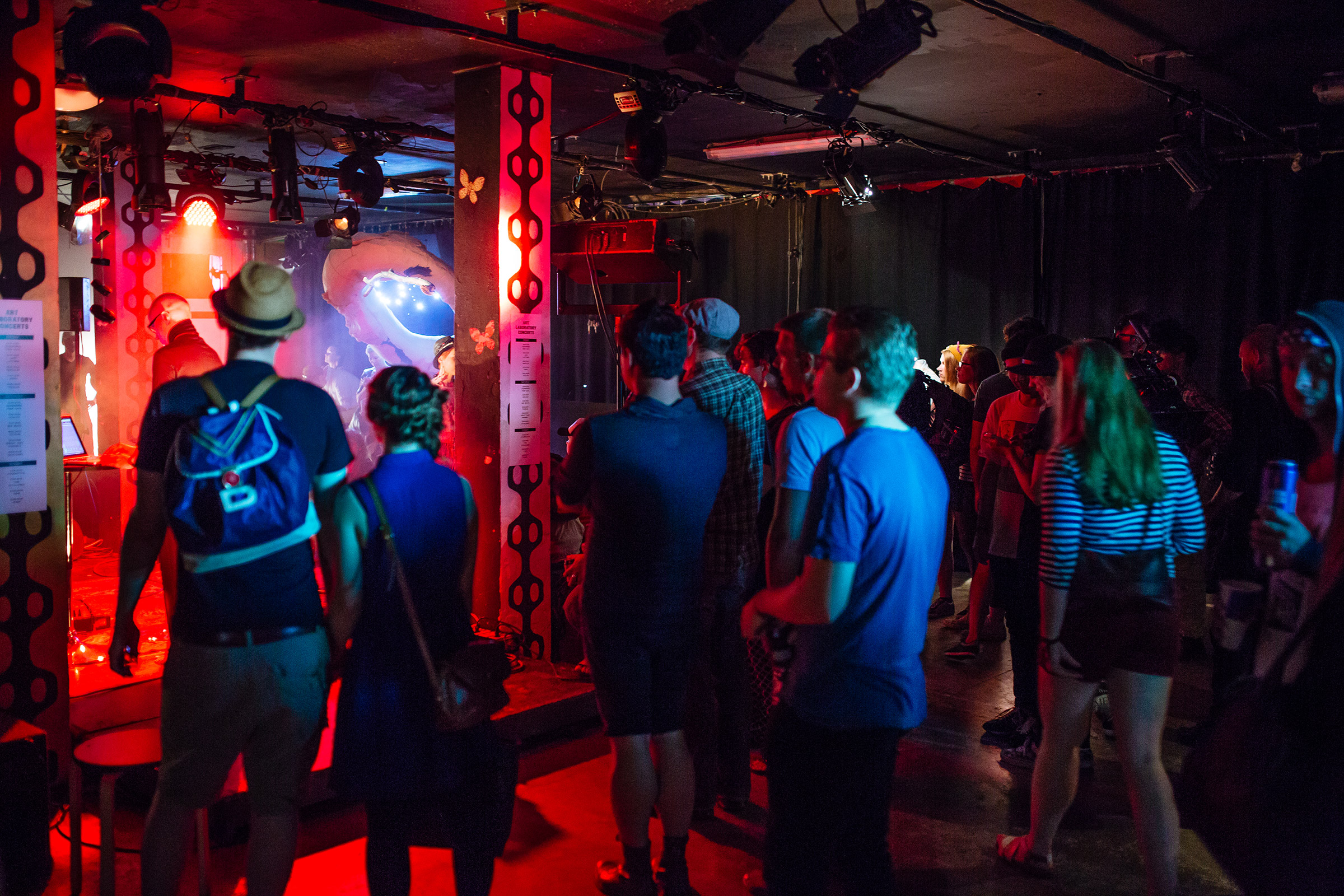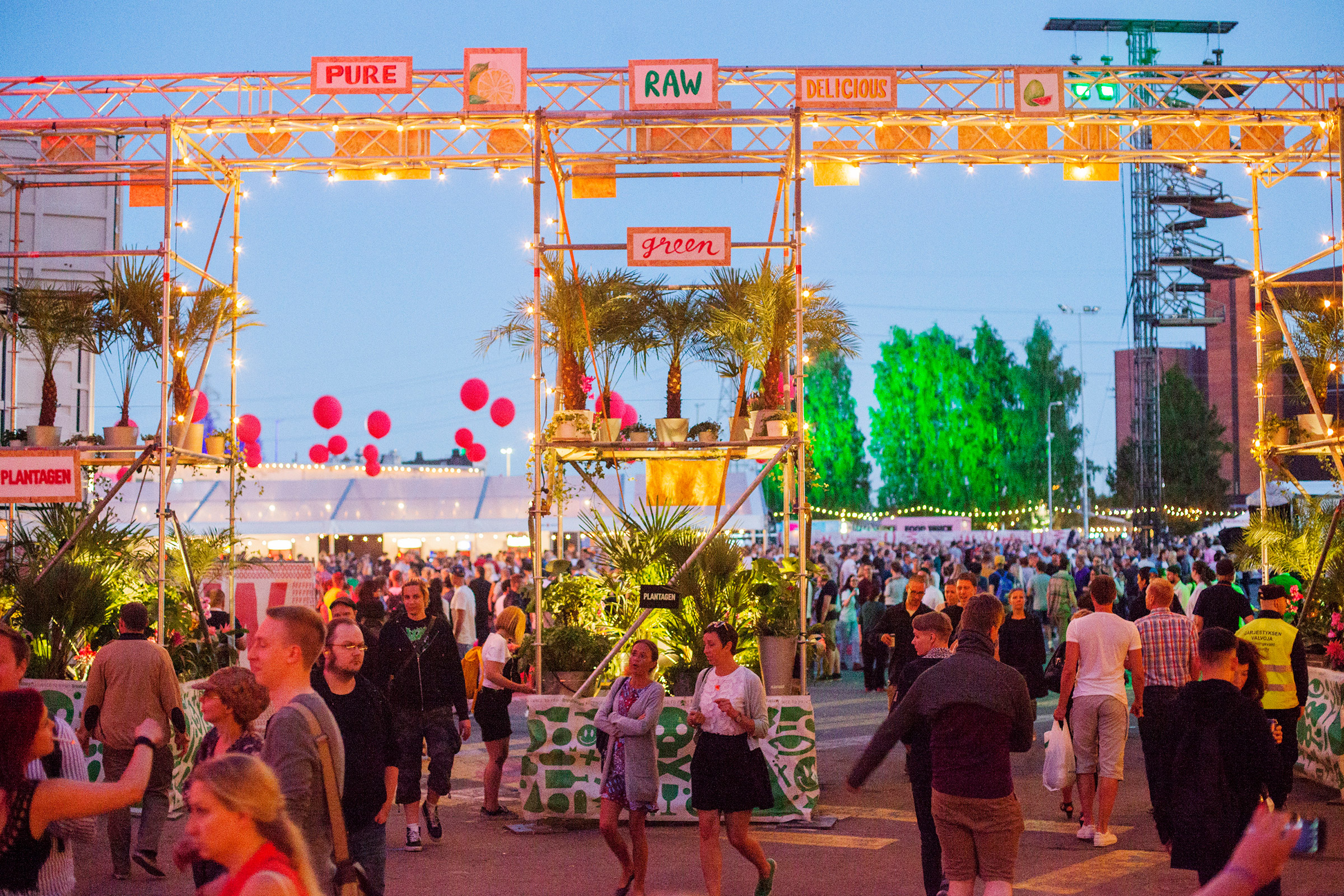 Flow Talks, a collab with think tank Demos Helsinki, focused on urban living. Design workshops and speeches by international experts covered urban events, cities' solutions, and new services for residents and collective construction. The workshops were open to the public and invited creative communities and organisations as well as urban developers to discuss the key challenges and opportunities in urban living.
Flow's program in 2015 was the first that was put together by the new programming team consisting of Tuomas Kallio, Toni Rantanen, Arttu Tolonen, Lauri Soini, Henri Pulkkinen, Emma Kemppainen and Antti Berg.
In 2015, the Flow concept was successfully taken abroad. In addition to the Finnish Flow Festival in Helsinki, Flow Festival Ljubljana took over Slovenia's capital in June. Flow Festival Ljubljana received praise from audiences, artists, media and the local production team, and the old industrial area of Tobačna Mesto proved to be an excellent festival site. The atmosphere so familiar in Suvilahti was recreated in Ljubljana by topical programming, design, art, lighting and high-quality food & drink vendors. Flow Talks focused on the dialogue between cultures and how it can to facilitate the progression of creative industries.
Flow Festival Ljubljana gathered around 10 000 visitors, which was a satisfactory result for the new event, especially when taking into account the expectations as well as the size of the site. The 50+ gigs spread across three stages, highlights including, e.g. Pet Shop Boys, Róisín Murphy, Metronomy, Run The Jewels, Caribou, José González, Derrick May, Bonobo and Recondite. A top selection of local DJs made the crowds dance into the early hours.
In addition to Helsinki and Ljubljana, Flow organised a small pop-up event in London. LCMDF, Paperi T & Khid and Mirel Wagner introduced Finnish music scene to the Brits.
Said about Flow:
«From obscure emerging bands you've never heard of, to some of the world's biggest recording stars; from Michelin-quality food trucks to DJs, art installations, esoteric discussions and cocktails, to new technology and an environmental awareness that would make Greenpeace blush, Finland's Flow Festival can certainly stake a claim to be the world's most achingly cool festival.»
– Forbes

«This ethos of careful curation implemented in a location as unique as Flow's is a recipe for a truly singular festival experience.»
– Crack Magazine
Photos: © Jussi Hellsten, Niklas Sandström, Annikki Valomieli, Samuli Pentti, Tomi Palsa, Jussi Särkilahti, Maija Astikainen and Robert Lindström.
Continue your trip down memory lane:
Watch photos: See all Flow Festival 2015 photos on Flickr
Check out videos: Official Flow Festival 2015 YouTube playlist
Watch photos: See the photos from Flow pop-up event in London
Read the magazine: Browse the Flow Festival 2015 magazine (in Finnish)
Photo Book: Browse the Flow Festival 2015 Photo Book
Browse the archived website:
http://archive.flowfestival.com/2015/en/
Please note that some imagery or links might not work correctly on the archived site.
Listen to the official Flow Festival 2015 playlist on Spotify:

Flow Festival 2015 artists in alphabetical order:
Acousmatica
Akkajee
Alt-J
Arthur Russell's Instrumentals Live Show
Beck
Belle and Sebastian
Black Lizard
Cats of Transnistria
CHIC featuring Nile Rodgers
Circus Helsinki
Cityman
Clark
D.R.E.A.M
Dave Lindholm
Death Team
defunensemble
Diplo
Dixon
DJ Ender
DJs Luca & Alina
Dog Life
DOPE HKI featuring special guests
E-Musikgruppe Lux Ohr
Elliphant
Emma Kemppainen & Rony Rex
Emma Salokoski
Emma Valtonen
Esko Routamaa
Evian Christ (live)
Family Sunday at Backyard
Filastine & Nova
Florence + The Machine
Flying Lotus
Forever Pavot
Foxygen
French Films
Future Brown
Future Islands
Grouper
Have You Ever Seen The Jane Fonda Aerobic VHS?
Hisko Detria
Hockey Night
Hohka
IKIHEVONEN
ILoveMakonnen
Islam Chipsy
J. Lindroos & Denzel
Janne Westerlund
Janne X
Joey Anderson
John McGregor featuring Samuli Kosminen & Jarmo Saari
Juha Mäki
Juho Kusti
Juho Laitinen
Jukka Nousiainen
K-X-P
Kairon; IRSE!
Kakkmaddafakka
Kesä
Korvat Auki Ensemble
Kristiina Männikkö
La Persé
Lasten Hautausmaa
Lauri Soini
LCMDF
Lianne La Havas
Likanen Etelä
Lil Tony
Lokit
Lorentz
Lännen-Jukka
Maaseudun Tulevaisuus
Major Lazer
Manialog
Manna
Mano Le Tough
Marsen Jules
Mika Vainio
Mirel Wagner
Modern Feelings
Mr. G
Musta Paraati
Natalie Prass
New Weave
Nina Kraviz
Nussivat Pääskyset: Vesihauta
NYKY Ensemble
O Samuli A
Olavi Louhivuori
Olli Koponen
Paperi T
Pet Shop Boys
ReAct! – Actions moving: Crowd control
Regina
Reino Nordin
Ride
Róisín Murphy
Ronskibiitti
Run The Jewels
Sairas T, OD Kokemus & O'Malley
Samu-Jussi Koski 40 v Special
Sansibar
Scifibimboes
Seinabo Sey
Seksihullut
Seth Troxler
Shadowplay
Shamir
Signe
Skenikswee & Harvest
Skepta
Solar
Songhoy Blues
Soundworks From KUVA
Synteettinen Suomi
Teemu Keisteri
The Mystic Revelation of Teppo Repo
The Space Lady
The War on Drugs
Tiga (live)
Timo Lassy Band with guests
Timo Viialainen
Todd Terje & The Olsens
Tove Lo
Trevor Deep Jr.
Tyler, The Creator
Tölöläb
Verneri Pohjola Quartet
Vladislav Delay
Vohm
Years & Years
Yona
You Are The Light