⟚✹ #FLOWFESTIVAL ❂⩶ ❇✧ #FLOWFESTIVAL ⟚✹ #FLOWFESTIVAL ❂⩶ ❇✧ #FLOWFESTIVAL ⟚✹ #FLOWFESTIVAL ❂⩶ ❇✧ #FLOWFESTIVAL ⟚✹ #FLOWFESTIVAL ❂⩶ ❇✧ #FLOWFESTIVAL ⟚✹ #FLOWFESTIVAL ❂⩶ ❇✧ #FLOWFESTIVAL ⟚✹ #FLOWFESTIVAL ❂⩶ ❇✧ #FLOWFESTIVAL ⟚✹ #FLOWFESTIVAL ❂⩶ ❇✧ #FLOWFESTIVAL ⟚✹ #FLOWFESTIVAL ❂⩶ ❇✧ #FLOWFESTIVAL ⟚✹ #FLOWFESTIVAL ❂⩶ ❇✧ #FLOWFESTIVAL ⟚✹ #FLOWFESTIVAL ❂⩶ ❇✧ #FLOWFESTIVAL ⟚✹ #FLOWFESTIVAL ❂⩶ ❇✧ #FLOWFESTIVAL ⟚✹ #FLOWFESTIVAL ❂⩶ ❇✧ #FLOWFESTIVAL ⟚✹ #FLOWFESTIVAL ❂⩶ ❇✧ #FLOWFESTIVAL ⟚✹ #FLOWFESTIVAL ❂⩶ ❇✧ #FLOWFESTIVAL ⟚✹ #FLOWFESTIVAL ❂⩶ ❇✧ #FLOWFESTIVAL ⟚✹ #FLOWFESTIVAL ❂⩶ ❇✧ #FLOWFESTIVAL ⟚✹ #FLOWFESTIVAL ❂⩶ ❇✧ #FLOWFESTIVAL ⟚✹ #FLOWFESTIVAL ❂⩶ ❇✧ #FLOWFESTIVAL ⟚✹ #FLOWFESTIVAL ❂⩶ ❇✧ #FLOWFESTIVAL ⟚✹ #FLOWFESTIVAL ❂⩶ ❇✧ #FLOWFESTIVAL ⟚✹ #FLOWFESTIVAL ❂⩶ ❇✧ #FLOWFESTIVAL ⟚✹ #FLOWFESTIVAL ❂⩶ ❇✧ #FLOWFESTIVAL ⟚✹ #FLOWFESTIVAL ❂⩶ ❇✧ #FLOWFESTIVAL ⟚✹ #FLOWFESTIVAL ❂⩶ ❇✧ #FLOWFESTIVAL ⟚✹ #FLOWFESTIVAL ❂⩶ ❇✧ #FLOWFESTIVAL ⟚✹ #FLOWFESTIVAL ❂⩶ ❇✧ #FLOWFESTIVAL
2

0

0

6
Where and when? Kaikukatu Courtyard, Kuudes Linja, Valkoinen Sali, Club Rose Garden, Helsinki. Over three days, 18.-20.8.2006
Visitors: 9000
Stages: 1+1+2+1
Artists: 33
Highlights: José Gonzalez mesmerised the crowd in the courtyard on Sunday. After the Saturday's day program, the evening kicked off with club nights and continued well beyond the 5 am afterparty.
Website: http://archive.flowfestival.com/2006/en/ (Please note that some imagery or links might not work correctly on the archived site.)
The old railway warehouse, Flow's very first festival site in downtown Helsinki, had made way to the new Helsinki Music Centre, which meant that Flow had to find a new home. After carefully considering several options, the organisers decided to split the festival between two central locations: the courtyard of Kaikukatu in the Kallio district would host the daytime outdoor program, and in contrast, the night program would take place in Valkoinen Sali right by Senate Square. Some night program and afterparties took place at Kuudes Linja, a club in Kallio, and at Club Rose Garden in the Punavuori district.
Five stages across four separate sites saw performances by, e.g. José González, Bez, Candi Staton, Gravenhurst, Stones Throw presents! feat. Oh No, Wildchild & Vinia Mojica, Coldcut, Lindstrøm & Prins Thomas, Moodymann, Aril Brikha, Henrik Schwarz, Aavikko, TV-Resistori, Siiri Nordin & The Sweeters and Katusea Soundsystem. For the full lineup, please see the bottom of the page.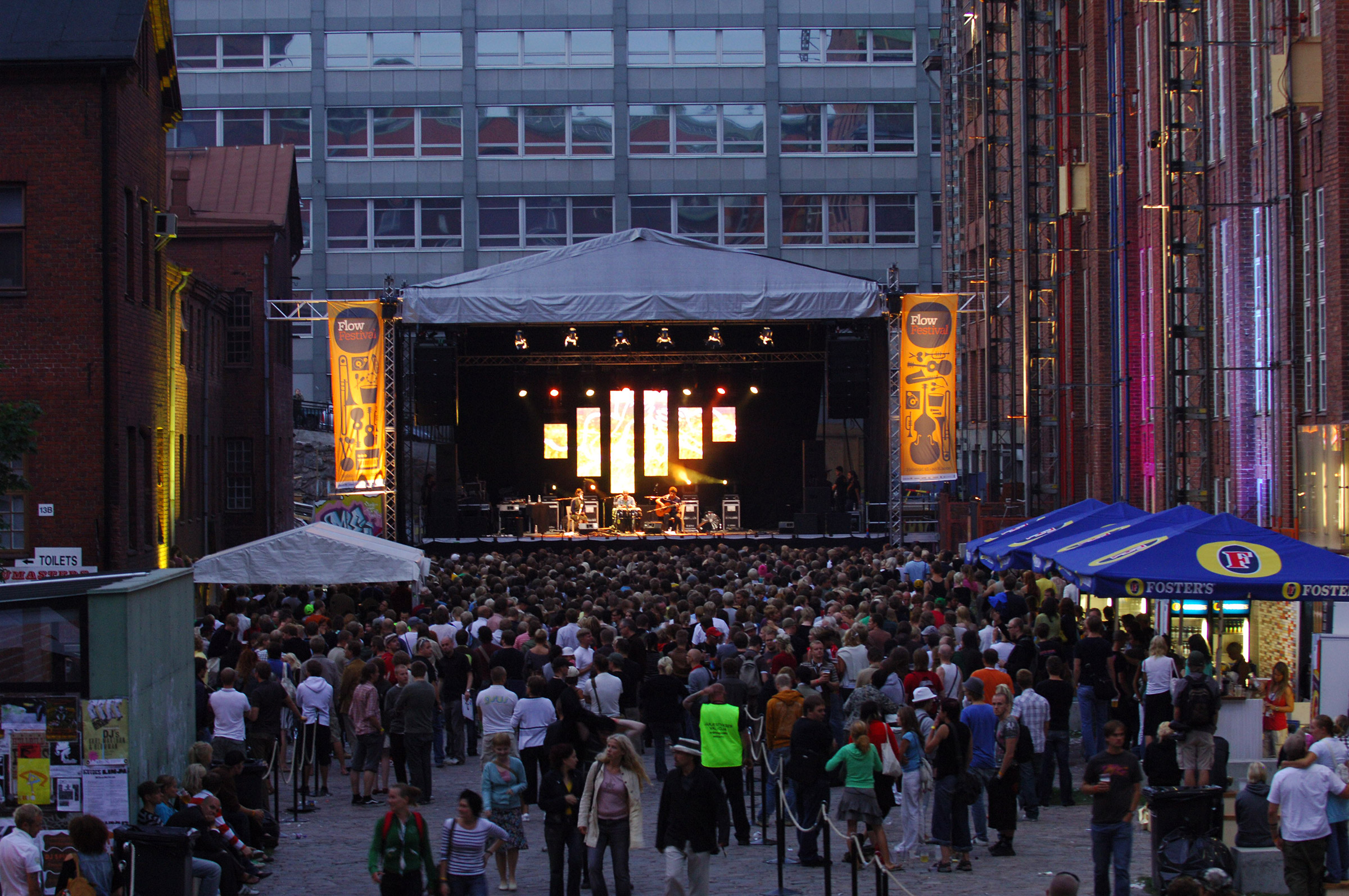 Due to the program being scattered between places and some overlaps in the evening and nighttime events, the ticket types also vastly varied.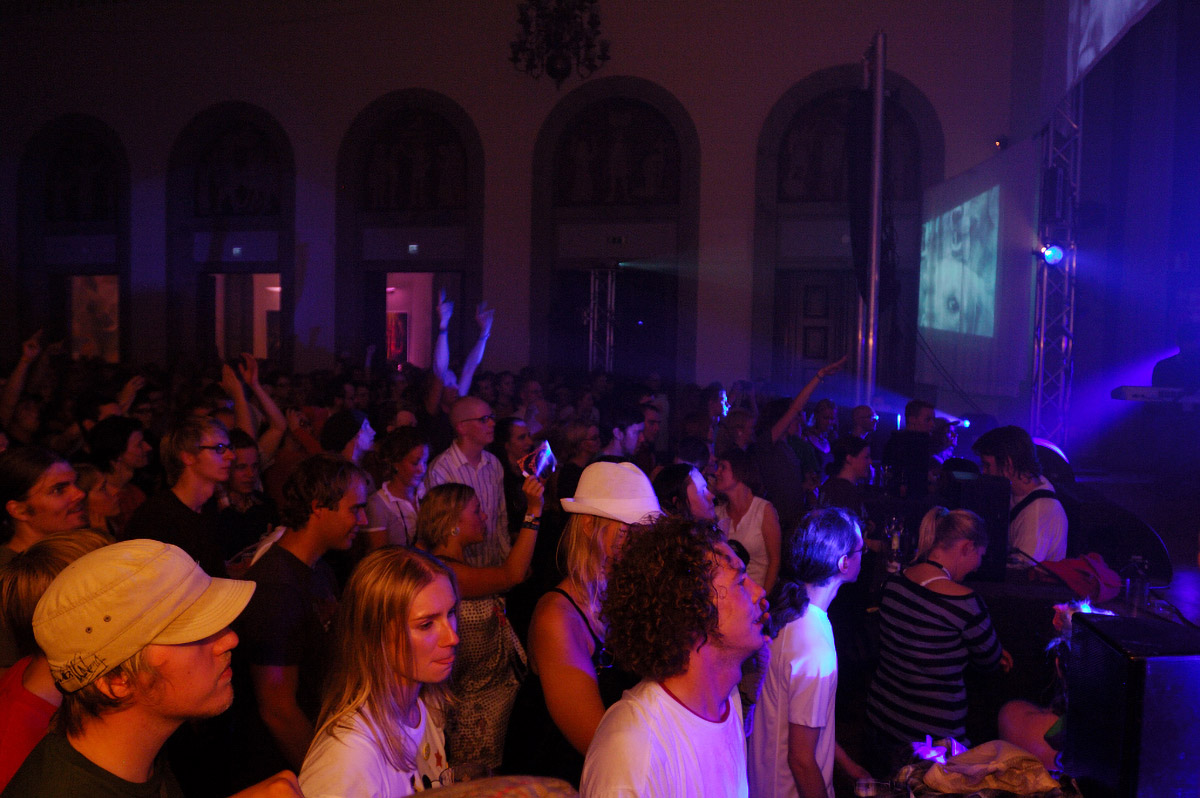 Particular focus was put on the amenities of the fabulous new event site, the Flow Yard. The courtyard was turned into an urban oasis, resembling an inviting al fresco restaurant. It hosted several covered bars, outside tables and a restaurant world, decorated by Artek and fronted by three of Helsinki's top restaurants: Four Seasons Salads & Delicatesses, Raku-ya and Kuurna with their gourmet hotdog stand. The walls behind the bar counters were covered with giant prints of Ola Kolehmainen's impressive photography.
Photos: © Vilhelm Sjöström
Continue your trip down memory lane:
Browse the archived Flow Festival 2006 website:
http://archive.flowfestival.com/2006/en/
Please note that some imagery or links might not work correctly on the archived site.
Flow Festival 2006 artists in alphabetical order:
Aavikko
Acid Kings
Ali Shaheed Muhammad (A Tribe Called Quest)
Aril Brikha
Candi Staton
Club Gäng! DJs
Coldcut DJ set
Dalindèo feat. Michiko
Edan with guest Dagha
Gravenhurst
Happy Mondays DJ set
Hearin' Aid
Helsinki Ghetto Bass Patrol
Henrik Schwarz
Jazzanova DJ set
José González
Katusea Soundsystem
Lifesaver DJs Didier & Anonymous
Lindstrøm & Prins Thomas
Made in Chicago featuring DJs Jori Hulkkonen, Ender & Lil' Tony
Moodymann aka Kenny Dixon jr. DJ set
Natha / Vri-il
Quintessence with strings
Raw Fusion Sound System
Siiri & The Sweeters
Stones Throw presents! feat. Oh No, Wildchild & Vinia Mojica, Romes, Dudley Perkins & Georgia Anne Muldrow + 4-piece live band
TV-Resistori
The Five Corners Quintet + One
Toinen Linja
Tortured Soul
U Brown & Sound Explosion Riddim Section
Underground Resistance [U.R.] presents Galaxy 2 Galaxy & Los Hermanos
Wahoo DJs