2

0

1

1
Where and when? Suvilahti, Helsinki. Over three days, 12.-14.8.2011
Visitors: 46 500
Stages: 12
Artists: 134
Highlights: Kanye West's astronomical spectacle with a massive crew of dancers, Janelle Monáe charming the audience on stage as well as in the middle of the crowd.
Website: http://archive.flowfestival.com/2011/en/index.html (Please note that some imagery or links might not work correctly on the archived site.)
The nearly sold-out Flow Festival 2011 gathered 46 500 visitors over the weekend. The three-day tickets had sold out in record time: by mid-summer. The popularity of the new Baltic Sea ticket type was a happy surprise for the organisers. The Baltic Sea ticket included a fixed €2 donation to protect the Baltic Sea, as part of WWF's Operation Mermaid.
One of the undeniable highlights of 2011 was Kanye West's massive spectacle, including, e.g. a huge squad of back up dancers. West kicked off his show by rising above the crowd in a crane, which has since been reminisced several times, such as on the track 'Tolpalla' by Finnish hip-hop group Loost Koos.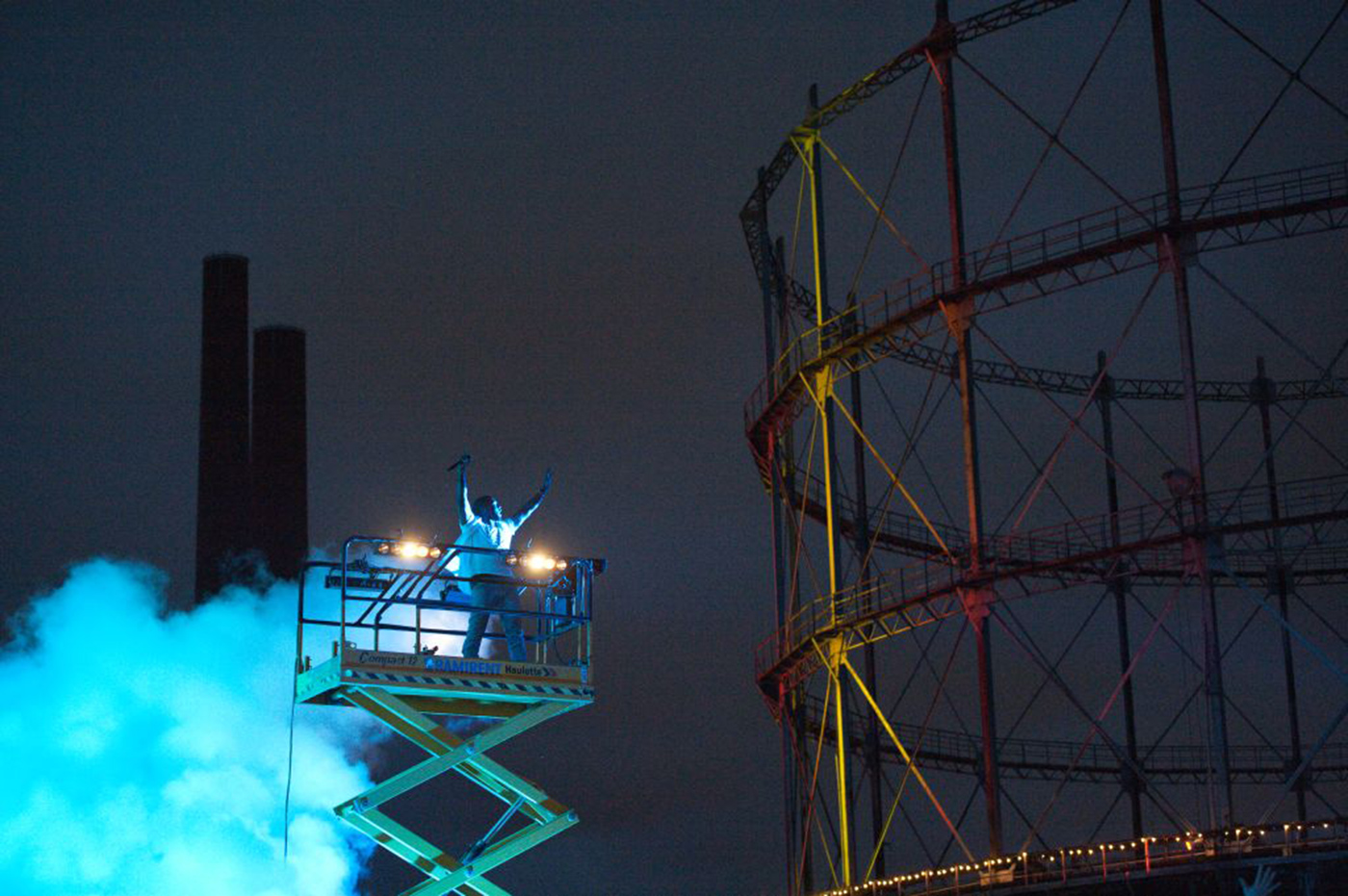 In addition to Kanye West, Flow Festival 2011 featured, e.g. James Blake, MF Doom, Röyksopp, The Human League, Janelle Monáe, Battles, Iron & Wine, Midlake, Warpaint, Destroyer, Empire of the Sun, Murcof + AntiVJ, Twin Shadow, Mogwai, Jamie Woon, DJ Koze, Ben Klock, Hercules & Love Affair, Matias Aguayo, First Aid Kit, Magenta Skycode, MC Taakibörsta, French Films, Minä ja Ville Ahonen and The DØ. The Nokia Lounge stage was taken over by Top Billin, Girl Unit and many more. For the full lineup, please see the bottom of the page.
Flow continued to develop the festival site further, gathering praising feedback especially for its functionality and atmosphere. More effort was placed on restaurant services and the recycling and deposit stations were placed more visibly. Design agency Tsto created an entirely new visual identity for Flow, which was presented in the area visuals of the festival. The upper yard of Kalasatama was opened, and a new stage, Nokia Blue Tent, proved its great functionality with a 5500 audience capacity.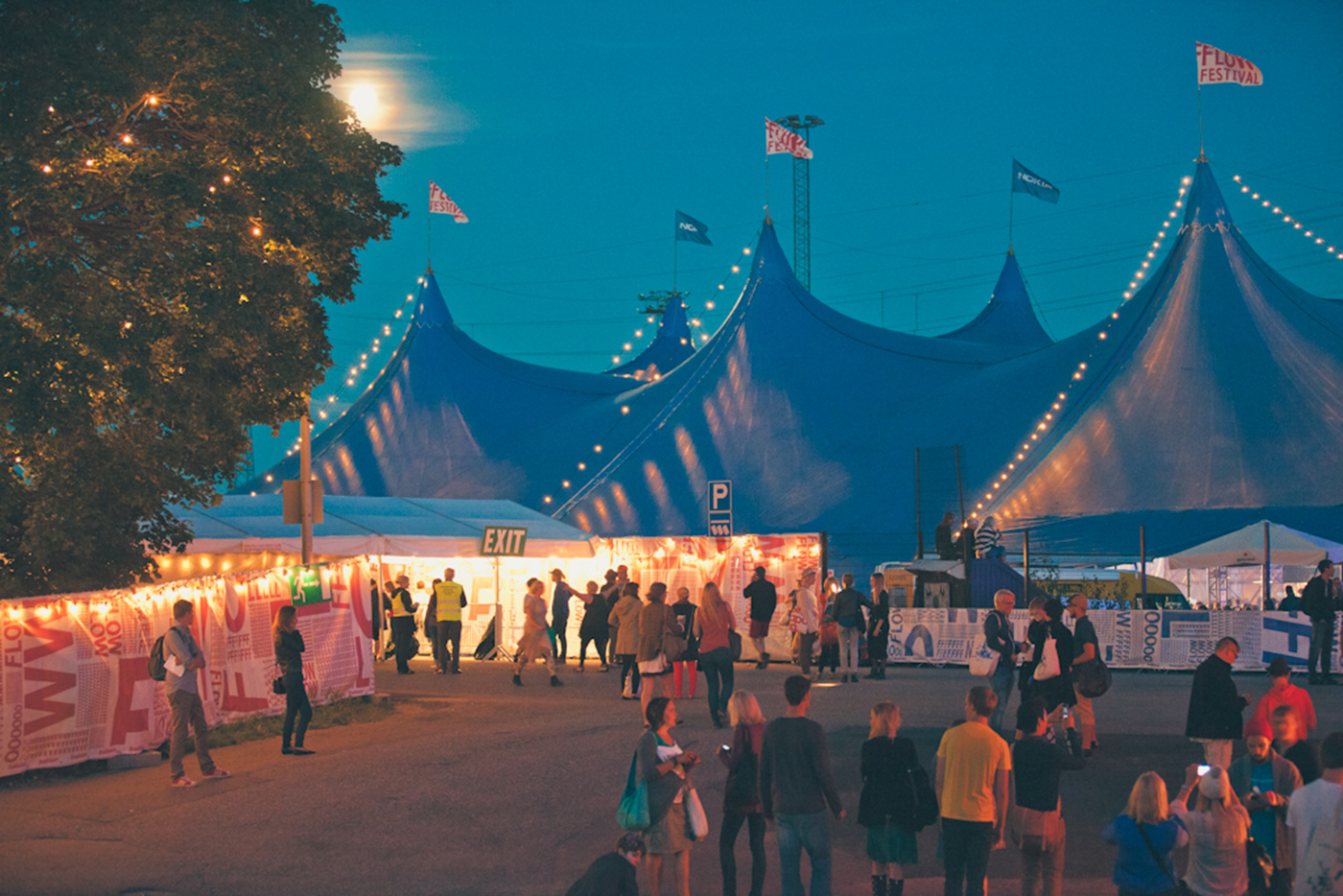 Other new areas included Cirko's building, which hosted The Other Sound program, relocated Film Garage in Oranssi as well as Viini & Sapas restaurant in Tiivistämö. In addition to the space dedicated to The Other Sound, Flow also occupied the second room in Cirko and filled it with an art installation by Ivana Franke, an award-winning Croatian artist. The improved Film Garage hosted short films by Future Shorts as well as an inaugural talk program. The seminars included artists workshops with Red Bull Music Academy, an international festival industry panel, and daily festival updates by the Nuorgam collective. The latter resembled the iconic Finnish ice hockey tv-show Hockey Night, delving into the past and upcoming events of the festival with various guests. At the Viini & Sapas restaurant in Tiivistämö, visitors enjoyed live music paired with Finnish tapas by restaurant Juuri and wine.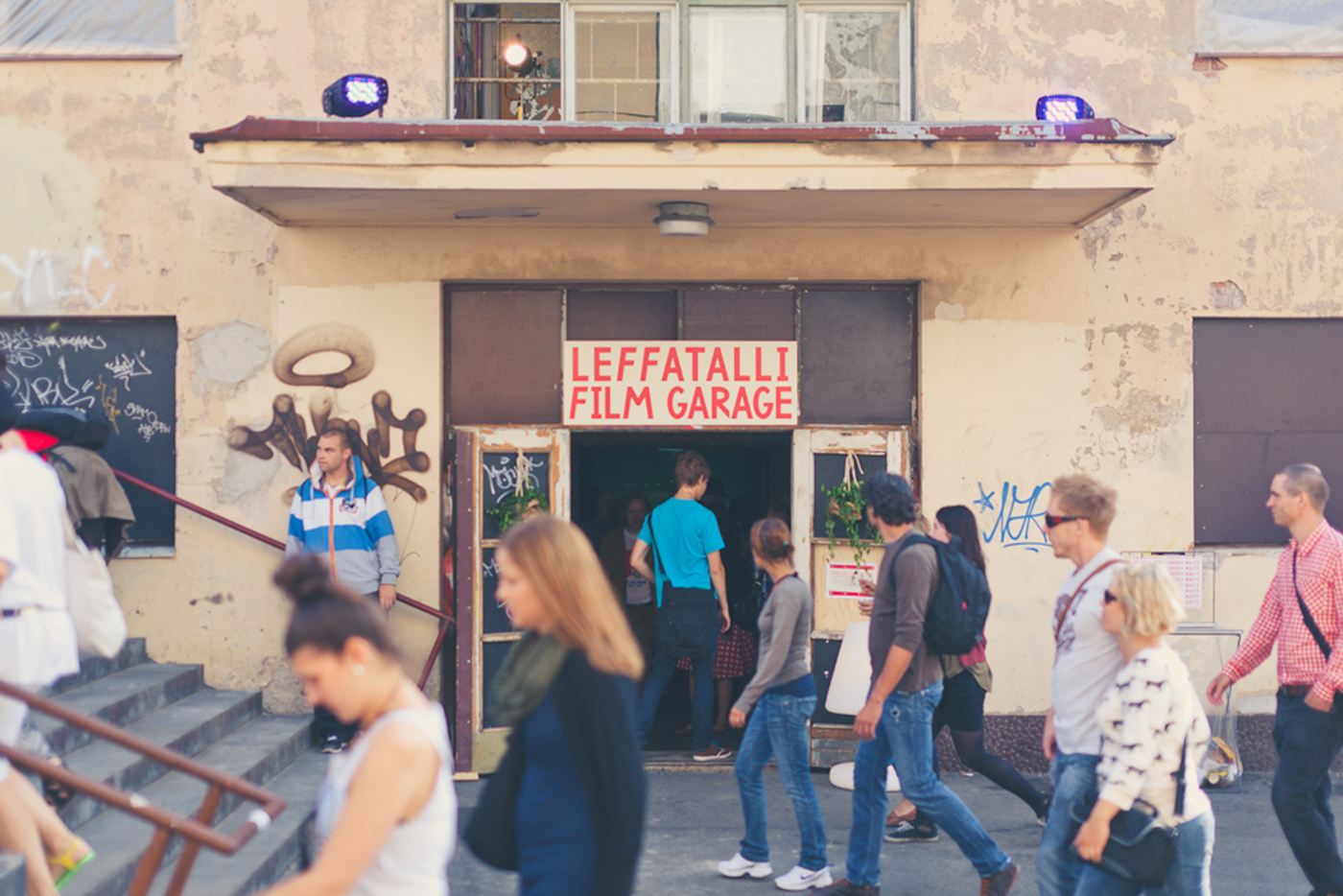 For the second year in a row, Flow's youngest visitors enjoyed a unique Family Sunday program, in the Backyard, with specifically tailored performances by a handful of talented Finnish artists, such as Janna, Tommy Lindgren, Felix Zenger and Tommi Lindell. The repertoire included, e.g. versions of children's songs on Ipanapa LP.
In the year 2011 Flow published their own, full-length magazine, whose contributor list was an impressive selection of music journalists, while the editorial team included Matti Nives and Sampo Axelsson from Flow as well as the then-editor-in-chief of Rumba, Teemu Fiilin.
In the autumn, Flow Festival was awarded the "Festival of the Year" award at the Music & Media Industry Awards gala. Flow also won the online vote for the Best Event, organised by the City of Helsinki's tourism board. In addition, the new visual festival identity created by Tsto was awarded "Kultahuippu" accolade in the creative industry awards "Vuoden Huiput".
Said about Flow:
«Alongside the music, and inspired not least by its venue, Flow is also about the identity of urban spaces and the transformations, news uses, and the new interpretations that they can go through, the visual and decorative arts, and the best in food and drink.»
– Plectrum – The Cultural Pick

«The overall vibe was relaxed and laidback, the well-priced food rocked, there was plenty to get up to – from creating art to enjoying cinema shorts – and such was the set-up of the fest, that the massive ground remained tidy from Friday to Sunday.»
– The Cultural Exposé
Photos: © Jussi Hellsten, Tomi Kukkonen, Sami Heiskanen, Vilhelm Sjöström & Eerikki Pokela.
Continue your trip down memory lane:
Watch photos: See all of the Flow Festival 2011 photos on Flickr
Read the magazine: Browse the Flow Festival 2011 magazine (in Finnish)
Photo Book: Browse the Flow Festival 2011 Photo Book
Browse the archived website:
http://archive.flowfestival.com/2011/en/index.html
Please note that some imagery or links might not work correctly on the archived site.
Listen to the Flow Festival 2011 playlist on Spotify:

Flow Festival 2011 artists in alphabetical order:
2562
A Love From Outer Space (Andrew Weatherall & Sean Johnston)
About Group
Analog Africa Soundsystem
Ariel Pink's Haunted Graffiti
Aromi
Asa Masa
Astro Can Caravan
Ateneumin Ämpärirumpali
Avarus
Barry Andrewsin Disko
Battles
Ben Klock
Blawan
Bridget Hayden
Cosmo Baker
Danny Krivit
Delay Trees
Desto Featuring Jimi Tenor
DestroyerDiscussion: Festival Panel
Discussion: Flow Studio
Discussion: RBMA workshop, Danny Krivit
Discussion: RBMA workshop, Desto
Discussion: workshop, Tony Trischka
DJ Anonymous
DJ Koze
DJ Tuipe
Dolphins into the Future
Dxxxa & Nukkehallitus
Eero Johannes Jakaa Sisältöä
Eevil Stöö
El Guincho
Empire of the Sun
Esko Routamaa
First Aid Kit
French Films
Fricara Pacchu
Future Shorts
Girl Unit
Hannulelauri
Hauschka featuring Samuli Kosminen
Hercules & Love Affair
Herman Prime
Holy Moly DJs' Mike Dunn Special
Horse Meat Disco
House Party DJs
Ignatz
Ionik
Iron & Wine
Ivana Franke
J-Laini
James Blake
Jamie Woon
Janelle Monáe
Jo Stance
Joakim Haugland
Joda + Rudy + Särre Freestyle Carrolsin kulmalta
Jori Hulkkonen is Third Culture
Joy Orbison
Jukka Eskola Quintet With Strings
Käki
Kanye West
Katerina
Kawaguchi Masami's New Rock Syndicate
Kemialliset Ystävät
Keuhkot
KiNK
Komposti Sound System
Lastenmusiikkia
Lepistö & Lehti
Magenta Skycode
Marcel Dettman
Martyn
Matias Aguayo
Matthew Dear (Live Band)
Mayer Hawthorne & The County
MC Taakibörsta PA 2011 Reunion
mf DOOM
Michael Cassette
Midlake
Mikko Innanen & Innkvisitio
Mimosa
Minä ja Ville Ahonen
Mirel Wagner
Mogwai
Mokka & Kinnunen "Get Your Love"
Motor City Drum Ensemble
Murcof + AntiVJ
Nightsatan
Non Person featuring Sarah Kivi
ODJ Harri
Oni Ayhun
Pantha Du Prince
Pearson Sound
Poika & Hirviö
Poutatorvi
Pretty Lightning
Regina
Reino & The Rhinos
Renaissance Man
Roberto Rodriguez
Röyksopp
Rubik
Shantel & Bucovina Club Orkestar
Sharkslayer
Shed Live
Shine 2009
Sly & Robbie featuring Junior Reid
Spoek Mathambo
Stockers!
Sväng
T.A. Kaukolampi
Teeth
Tensnake
Tes La Rok
The Budos Band
The Do-Over hosted by Aloe Blacc
The Dø
The Human League
The Pains Of Being Pure At Heart
Timo Lassy Trio
Tixa
Toni Halo
Tony Trischka
Top Billin
Twin Shadow
Vilunki
Wannabe Ballerinas
Warpaint
We Love Helsinki
Yé Yé
Yona & Orkesteri Liikkuvat Pilvet
Q-Tip, Zomby and Lykke Li were also supposed to perform at the festival, but they cancelled their performances.