⟚✹ #FLOWFESTIVAL ❂⩶ ❇✧ #FLOWFESTIVAL ⟚✹ #FLOWFESTIVAL ❂⩶ ❇✧ #FLOWFESTIVAL ⟚✹ #FLOWFESTIVAL ❂⩶ ❇✧ #FLOWFESTIVAL ⟚✹ #FLOWFESTIVAL ❂⩶ ❇✧ #FLOWFESTIVAL ⟚✹ #FLOWFESTIVAL ❂⩶ ❇✧ #FLOWFESTIVAL ⟚✹ #FLOWFESTIVAL ❂⩶ ❇✧ #FLOWFESTIVAL ⟚✹ #FLOWFESTIVAL ❂⩶ ❇✧ #FLOWFESTIVAL ⟚✹ #FLOWFESTIVAL ❂⩶ ❇✧ #FLOWFESTIVAL ⟚✹ #FLOWFESTIVAL ❂⩶ ❇✧ #FLOWFESTIVAL ⟚✹ #FLOWFESTIVAL ❂⩶ ❇✧ #FLOWFESTIVAL ⟚✹ #FLOWFESTIVAL ❂⩶ ❇✧ #FLOWFESTIVAL ⟚✹ #FLOWFESTIVAL ❂⩶ ❇✧ #FLOWFESTIVAL ⟚✹ #FLOWFESTIVAL ❂⩶ ❇✧ #FLOWFESTIVAL ⟚✹ #FLOWFESTIVAL ❂⩶ ❇✧ #FLOWFESTIVAL ⟚✹ #FLOWFESTIVAL ❂⩶ ❇✧ #FLOWFESTIVAL ⟚✹ #FLOWFESTIVAL ❂⩶ ❇✧ #FLOWFESTIVAL ⟚✹ #FLOWFESTIVAL ❂⩶ ❇✧ #FLOWFESTIVAL ⟚✹ #FLOWFESTIVAL ❂⩶ ❇✧ #FLOWFESTIVAL ⟚✹ #FLOWFESTIVAL ❂⩶ ❇✧ #FLOWFESTIVAL ⟚✹ #FLOWFESTIVAL ❂⩶ ❇✧ #FLOWFESTIVAL ⟚✹ #FLOWFESTIVAL ❂⩶ ❇✧ #FLOWFESTIVAL ⟚✹ #FLOWFESTIVAL ❂⩶ ❇✧ #FLOWFESTIVAL ⟚✹ #FLOWFESTIVAL ❂⩶ ❇✧ #FLOWFESTIVAL ⟚✹ #FLOWFESTIVAL ❂⩶ ❇✧ #FLOWFESTIVAL ⟚✹ #FLOWFESTIVAL ❂⩶ ❇✧ #FLOWFESTIVAL ⟚✹ #FLOWFESTIVAL ❂⩶ ❇✧ #FLOWFESTIVAL
2

0

1

3
Where and when? Suvilahti, Helsinki. Over three days, 9.-11.8. 2013, plus an opening concert on the August 7th
Visitors: 61 500
Stages: 12
Artists: 130
Highlights: Both Alicia Keys and Nick Cave & The Bad Seeds gave shivers down the spine. A 20 000-strong crowd with 3D glasses on were mesmerised by Kraftwerk.
Website: http://archive.flowfestival.com/2013/en/index.html (Please note that some imagery or links might not work correctly on the archived site.)
The 10-year-old Flow Festival took place in Suvilahti for the 7th year in a row. The special birthday celebrations kicked off with an opening night on the previous Wednesday of the festival week, starring The Knife and their Shaking the Habitual Show, and another Swedish duo, Kate Boy.
The sunny festival weekend featured, e.g. the R&B and soul artist, songwriter, pianist and actress Alicia Keys, dark rock pioneers Nick Cave & the Bad Seeds, German electronic legends Kraftwerk and their 3D show, and shoegaze giant My Bloody Valentine. Other notable acts included Kendrick Lamar, Grimes, Public Enemy, Of Monsters and Men, Godspeed You! Black Emperor, Bat For Lashes, Disclosure, Haim, Mount Kimbie, Beach House, Moderat, Goat, Parquet Courts, Jens Lekman, Âme, Austra, Mykki Blanco, Angel Haze, Julia Holter, Ricky-Tick Big Band & Julkinen Sana, Rubik, Vähäiset äänet, Huoratron and Pää Kii. The festival weekend and opening night gathered 61 500 visitors altogether. For the full lineup, please see the bottom of the page.
In 2013, several substantial improvements were presented, which later on became Flow staples. For the first time, it was now possible to turn most of the public area into alcohol licensed areas – the separate, fenced drinking areas were not going to be missed. One of the most exciting newcomers was the bar oasis in the middle of the main stage area, which served thirsty festival-goers from three different directions. A welcome addition was also a craft beer bar with a wide selection of speciality beers.
The 2-year-old, the already iconic balloon stage was officially named Balloon 360°. A local art initiative set up their Living Flow installation by the festival's entrance, whose gigantic letters FLOW quickly became an Instagram hotspot, still popular today. The piece was produced by Green House Effect, a collective specialised in making public spaces greener.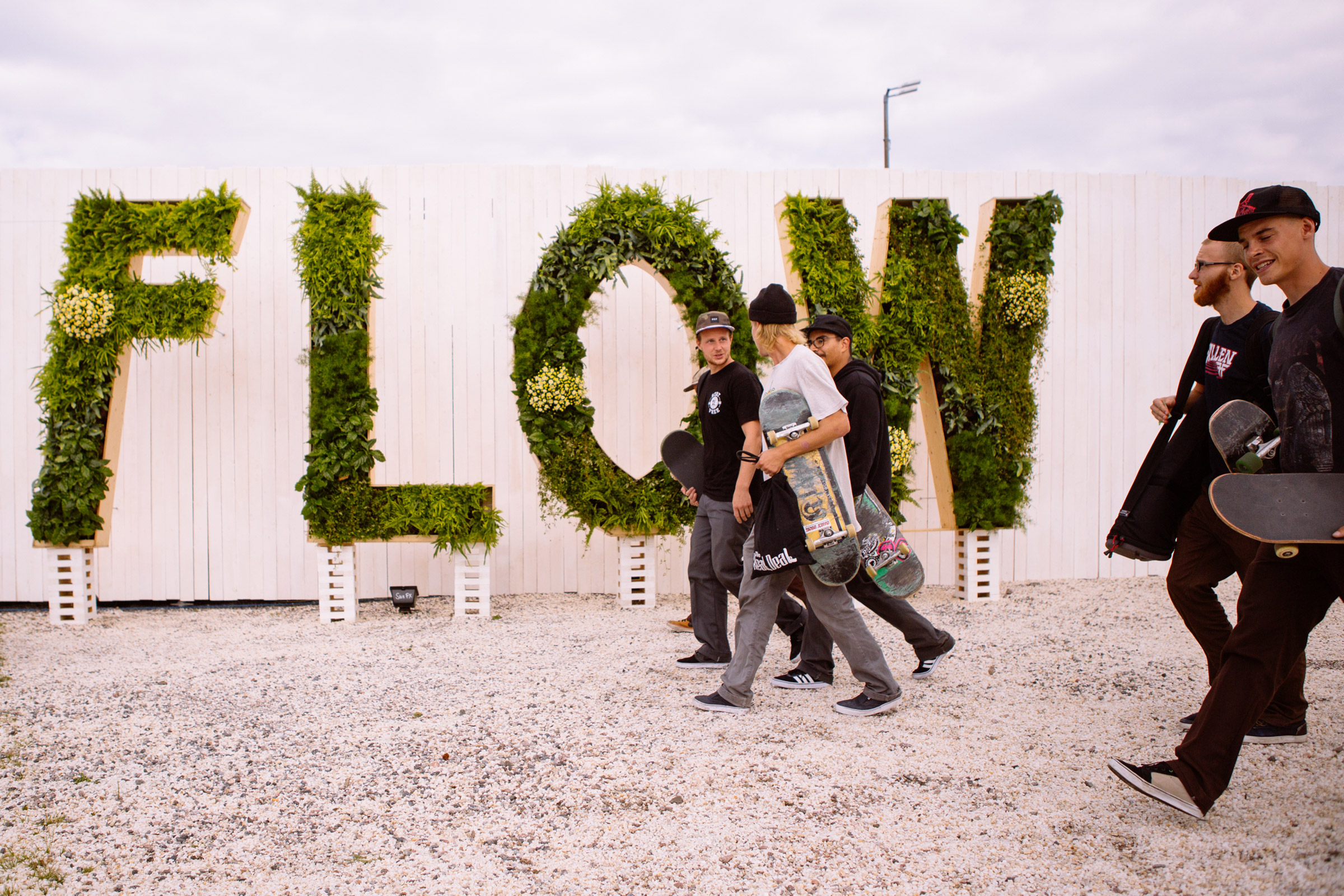 Flow celebrated its tenth birthday with an astonishingly diverse lineup. In addition to the bigger stages, the carefully curated program continued on the smaller stages with different themes. The Flow team and Fonal Records' Sami Sänpäkkilä collaborated on The Other Sound entity, which showcased experimental music from marginal folk to epic soundscapes. As part of The Other Sound, Flow saw performances by the critically acclaimed Julia Holter and U.S. Girls as well as domestic Panssarijuna and Lau Nau. WeJazz curated a jazz-focussed stage in Tiivistämö, where the audience enjoyed next-generation Finnish jazz. Red Bull Music Academy's Backyard stage hosted several international top DJs, beats ranging from deep house to dubstep.
Flow's tenth year brought with it Boiler Room, the messiah of international club culture. Boiler Room's first visit to Finland was streamed from the Boiler Room x Nokia Garage stage to their millions of followers. The lineup was a mix of local and international talent, from Tim Sweeney to Timo Lassy. Heineken Open Source Stage presented acts voted by Flow's audience. Through the public vote, limelight was given to, e.g. a Finnish cult rap collective Vähäiset äänet, Oukkidouppi, Lieminen, Tuuttimörkö and DJPP All Stars.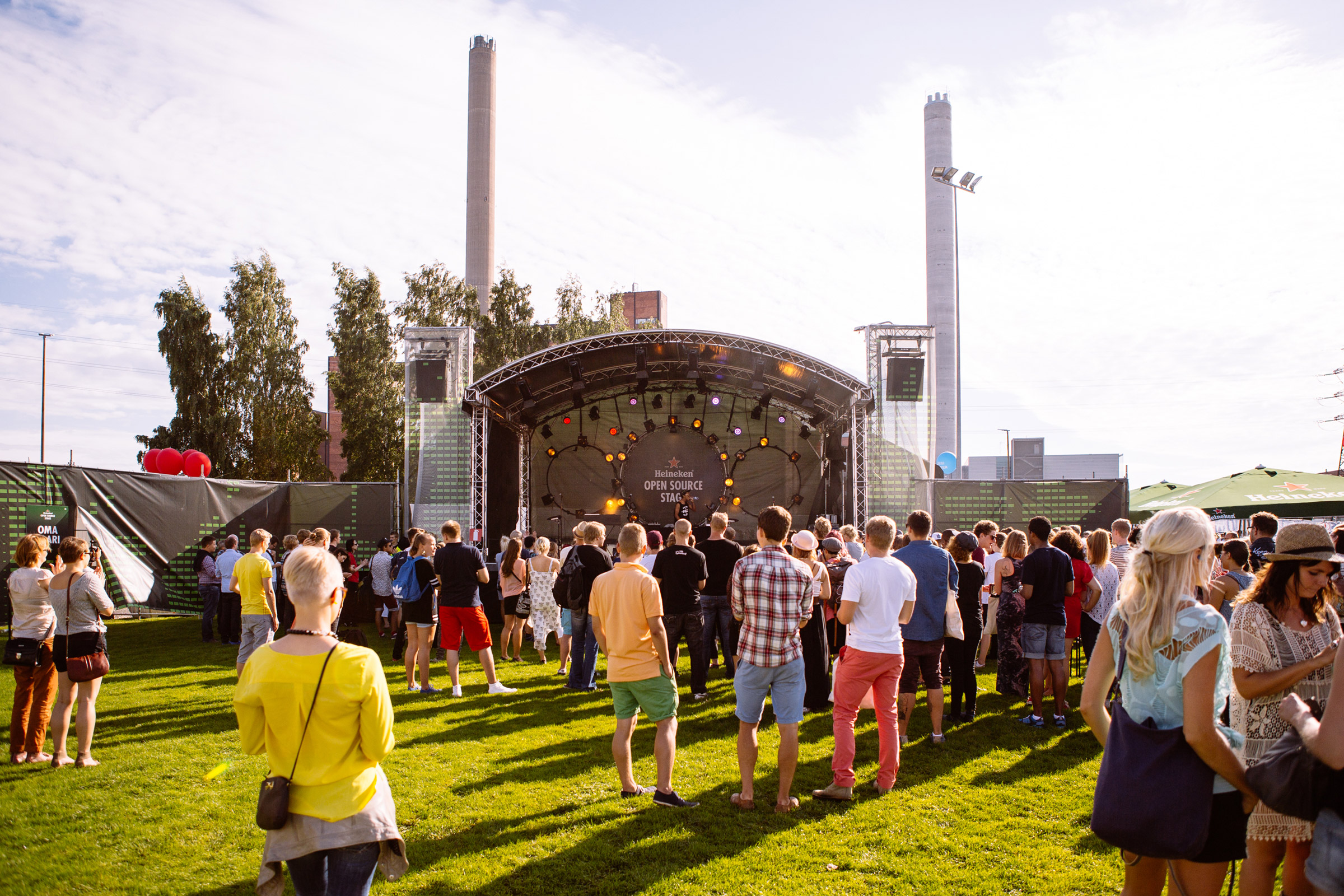 Flow Festival chose Otto Maja, a pioneer in Finnish street art, to be Flow's "Visual Artist of the Year". Maja produced a massive, 168 square meter piece for the festival with his Icelandic artist friend Mint. From a cocktail bar dedicated to the senses, customers could order an experience for their vision, hearing, smell or taste. Make Your Mark Gallery hosted an exhibition by the graffiti legend Ikaroz called Mano-a-Mano. The arts program culminated with The Hate Destroyer, aka Berlin's Irmela Mensah-Schramm, known for her habit of destroying or mess up racist, anti-semitic or homophobic tags, stickers and posters. The Flow 2013 merch collection was designed by R/H, a Finnish brand known for their Mickey-range.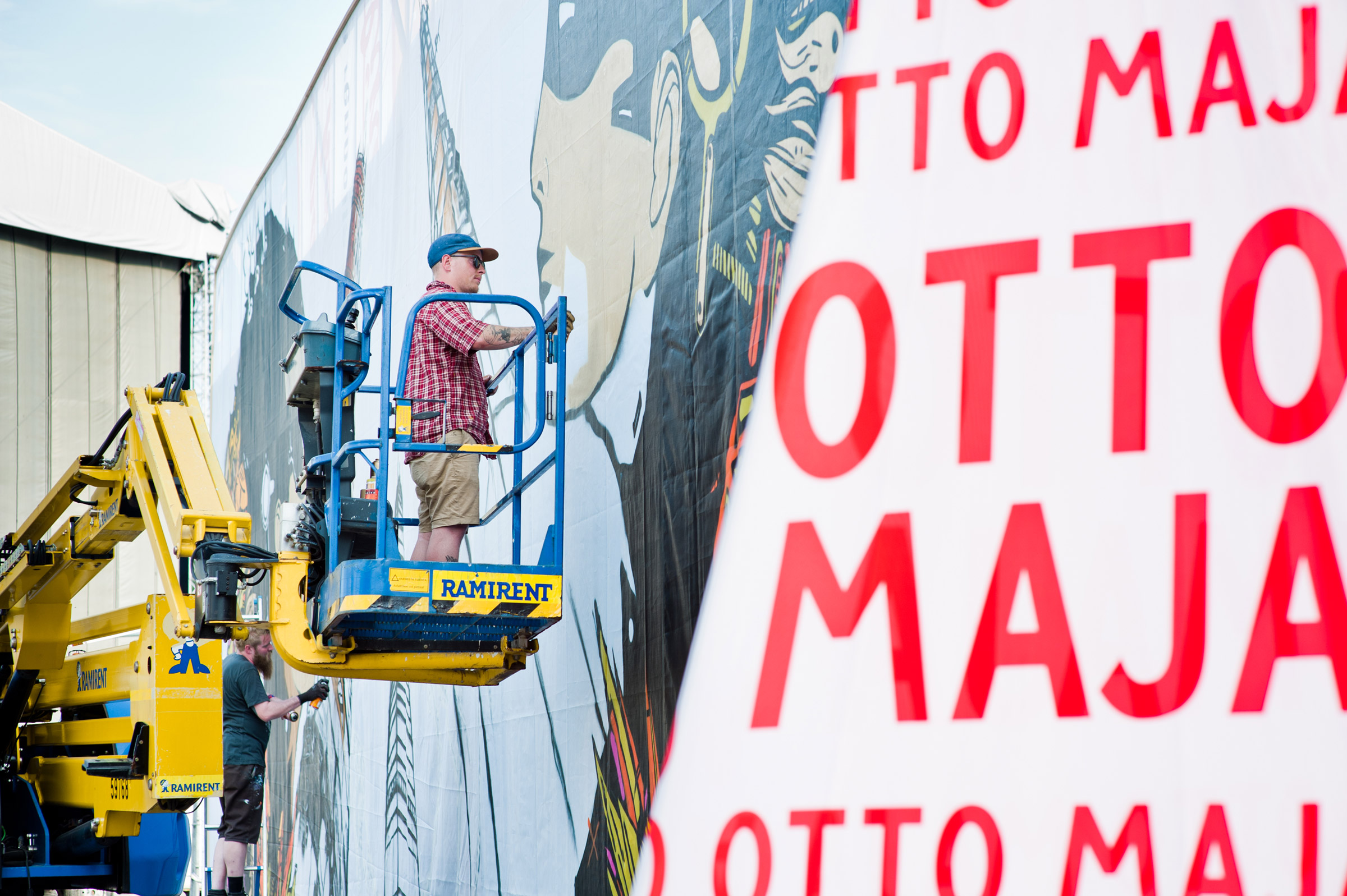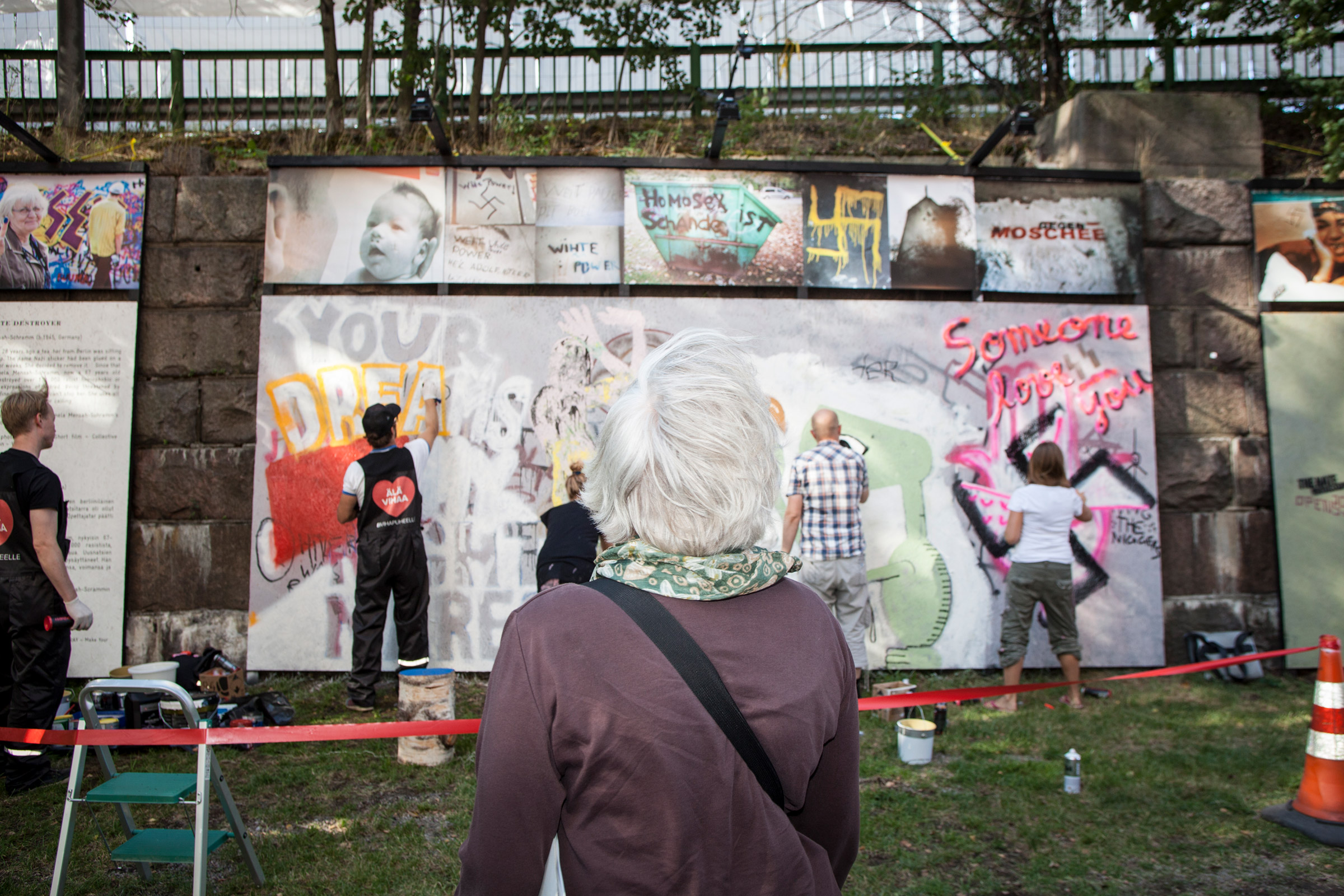 Alongside music, the festival continued to offer high-quality films and talks. Film Garage showed topical documentaries, acclaimed short films, hottest indie flicks, music videos and student works from Finnish film schools. Lämpö stage hosted daily talks about interesting topics, such as insights into the events industry, the state of the record industry by XL Recordings' Rodaidh McDonald and Irmela Mensah-Schramm's experiences creating her work as The Hate Destroyer. Music media Nuorgam curated daily content for the stage from interviews to small gigs. The workshop talks held at RBMA Backyard stage introduced some of the Flow artists, e.g. Tensnake and Jori Hulkkonen.
Later in the autumn, Flow won the "Festival of the Year" award yet again at the Music & Media Industry Awards gala.
Said about Flow:
«On top of that, the care and attention to detail that went into Flow Festival is something you suspect could only happen in Helsinki, Finland.»
– The Quietus

«Flow has grown over the last 10 years to become a Scandinavian cultural highlight and a real draw for people to visit the country.»
– Crack Magazine
Photos: © Jussi Hellsten, Samuli Pentti, Tomi Palsa, Maija Astikainen, Tomi Kukkonen, Joel Nieminen, Noora Isoeskeli & Niklas Sandström.
Continue your trip down memory lane:
Watch photos: See all Flow Festival 2013 photos on Flickr
Check out videos: Official Flow Festival 2013 YouTube playlist
Read the magazine: Browse the Flow Festival 2013 magazine (in Finnish)
Photo Book: Browse the Flow Festival 2013 Photo Book
Browse the archived website:
http://archive.flowfestival.com/2013/en/index.html
Please note that some imagery or links might not work correctly on the archived site.
Listen to the official Flow Festival 2013 playlist on Spotify:

Flow Festival 2013 artists in alphabetical order:
Aino Venna
Alicia Keys
Âme
Angel Haze
Anni
Antero Lindgren
Astral Social Club
Atom™
Austra
Autre Ne Veut
Ballereinot
Bat For Lashes
Beach House
Black Lizard
Black Motor & Verneri Pohjola
Blixa Bargeld – Solo Vocal Performance
Cat Power
Chicaloyoh
Circuit Des Yeux
Club Bangles
Cody ChesnuTT
Cola & Jimmu
Cola & Jimmu Boiler Room Set
Dalindèo
Desto
Disclosure
Disco Obscura
DJPP All Stars
Ebo Taylor & The Odapajan
Ender & Lil' Tony Boiler Room Set
Factory Floor
Family Sunday
Femme En Fourrure Boiler Room Set
Fotoshop
Ghedalia Tazartes
Goat
Godspeed You! Black Emperor
Grimes
Haim
Hang The DJ
Hannulelauri DJ set
Häxjesus
Huoratron
Husky Rescue
Invader Ace
Ionik Boiler Room Set
Jaakko Eino Kalevi
Jaakko Laitinen & Väärä Raha
Jacco Gardner
Jackmaster
Jens Lekman
Jonna
Julia Holter
Junip
Jupiter & Okwess International
Jyrki Nissinen & Hot Visions
K-X-P
Kahden miehen galaksi
Käppi/Nyrhinen
Karenn
Karri Koira
Kate Boy
Kendrick Lamar
Kingfishers
KOK Trio
Kraftwerk 3D Show
Kumma Heppu & Lopunajan Voidellut
Laineen Kasperi ja Palava Kaupunki
Lau Nau
Levon Zoltar
Lieminen
Lil Tony
Loft Apartment
Loost Koos
Love Cult
Maya Jane Coles
Minä ja Ville Ahonen
Moderat
Mount Kimbie
My Bloody Valentine
Mykki Blanco
Newhouse
Nick Cave & The Bad Seeds
Nicole Willis & The Soul Investigators
Noah Kin
Nokia Garage DJ's
Of Monsters And Men
Olimpia Splendid
Orphan Fairytale
Oukkidouppi
Pää Kii
Panssarijuna
Parquet Courts
Paska Sohva
Public Enemy
Ravi Coltrane Quintet
Reggae Sundays: Bitty McLean, Gappy Ranks ja Christopher Ellis + more
Ricky-Tick Big Band & Julkinen Sana
Rubik
Samae Koskisen Korvalääke
Sarah Kivi & Non-Orchestra
Satellite Stories
Serenity Ensemble
Smith & Zenger
Sounds Like Kotibileet
Space Dimension Controller
Space Dimension Controller Boiler Room Set
Tarek Warm Up
Tavastian Lauantaidisko
Teeth Boiler Room Set
Tensnake
The Knife Shaking The Habitual Show
The Lieblings
Tim Sweeney
Tim Sweeney Boiler Room Set
Timo Lassy Boiler Room Set
Timo Lassy Band
Trio Urho
Tuuttimörkö
U.S. Girls
Urpf Lanze
Vähäiset Äänet
Veli-Matti O Äijälä ja The Kolmas
We Jazz
We Love Helsinki
WGF
Wild Combo
Woods
Yöt