2

0

0

4
Where and when? VR warehouses, Helsinki. Over two days, 20.-21.8.2004
Visitors: 4000
Stages: 3
Artists: 13
Highlights: The first-ever Flow emerged from hazy jazz & techno clubs and the endless summer days/nights in Millennial Helsinki's parks. The new event was received with big excitement.
Website: http://archive.flowfestival.com/2004/index_en.html (Please note that some imagery or links might not work correctly on the archived site.)
The first-ever Flow Festival took place on the 20th and 21st of August at an old railway warehouse in central Helsinki, right next to Kiasma, the Museum of Modern Art. The two-day event was called "Flow04 – Nuspirit Helsinki Festival". Organised by the Nuspirit Helsinki collective, the inaugural Flow was free admission during the day, catering to all ages. Evenings were reserved for the ticketed main events: club nights. The event was a press and communications collaboration with Helsinki Festival.
The clubs on Friday and Saturday featured, e.g. American neo-soul singer Marlena Shaw, British DJ legend Norman Jay, hip hop artist Ty and his 8-strong live band, Berlin's Jazzanova, The Five Corners Quintet plus guests, Italian producer/DJ Nicola Conte and Bugz in the Attic -collective's DJ Seiji, supported by MC MG. For the full lineup, please see the bottom of the page.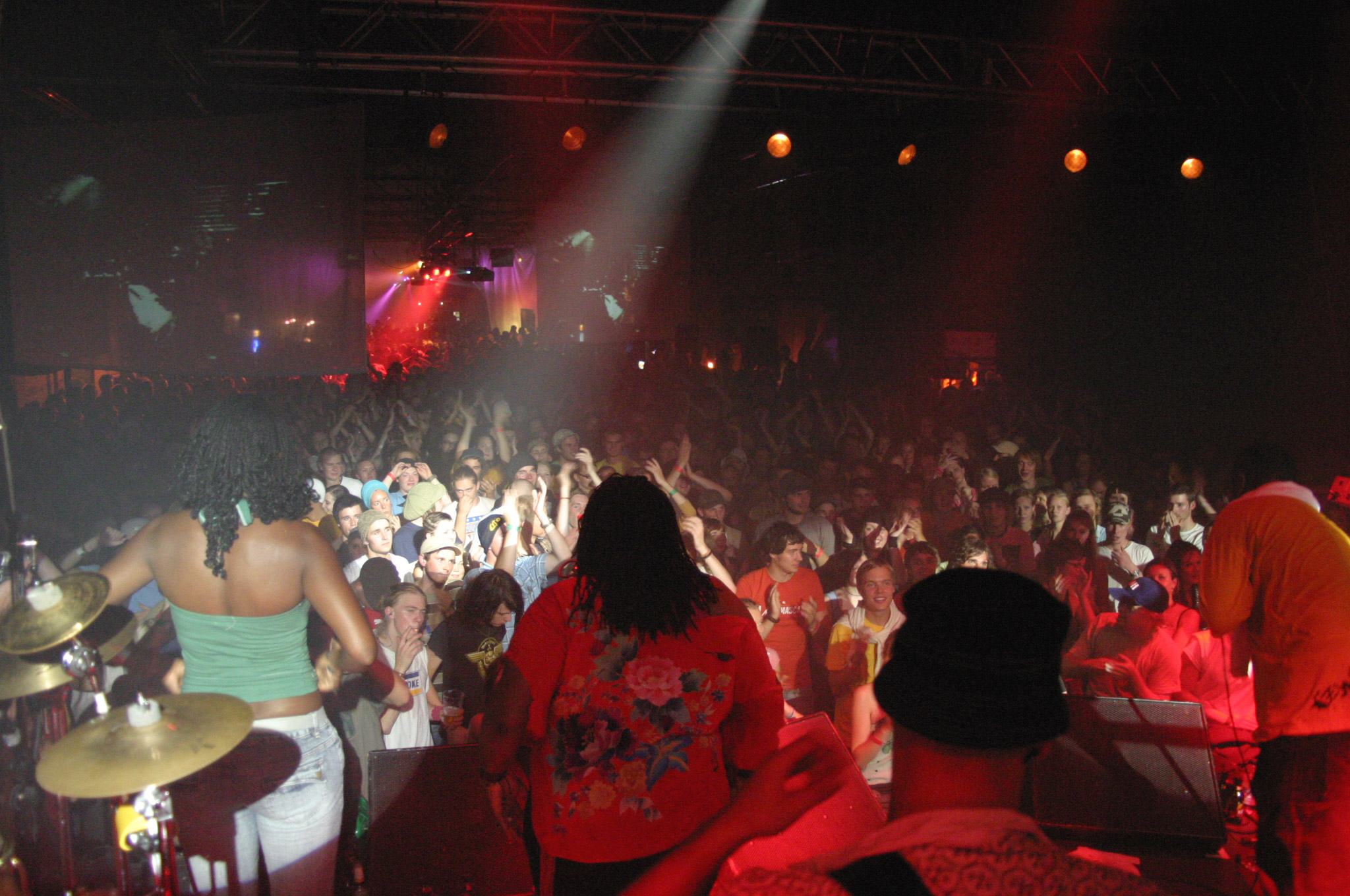 During the daytime event on Saturday, the decks were taken over by some of the hottest DJs in Helsinki. Besides, the crowd enjoyed a record market hosted by Helsinki's most interesting indie record shops, street art, a Korean cuisine restaurant produced by a Japanese restaurant Kabuki, and films and video art.
The festival's core idea was to introduce music that Flow's organisers personally found interesting and to bring the hottest international talents to Helsinki. This meant that while Flow was undeniably in with the times, it didn't only frantically chase the latest acts. Flow04's musical heartland was firmly rooted in jazz and soul but peppered with solid early noughties club music aesthetic.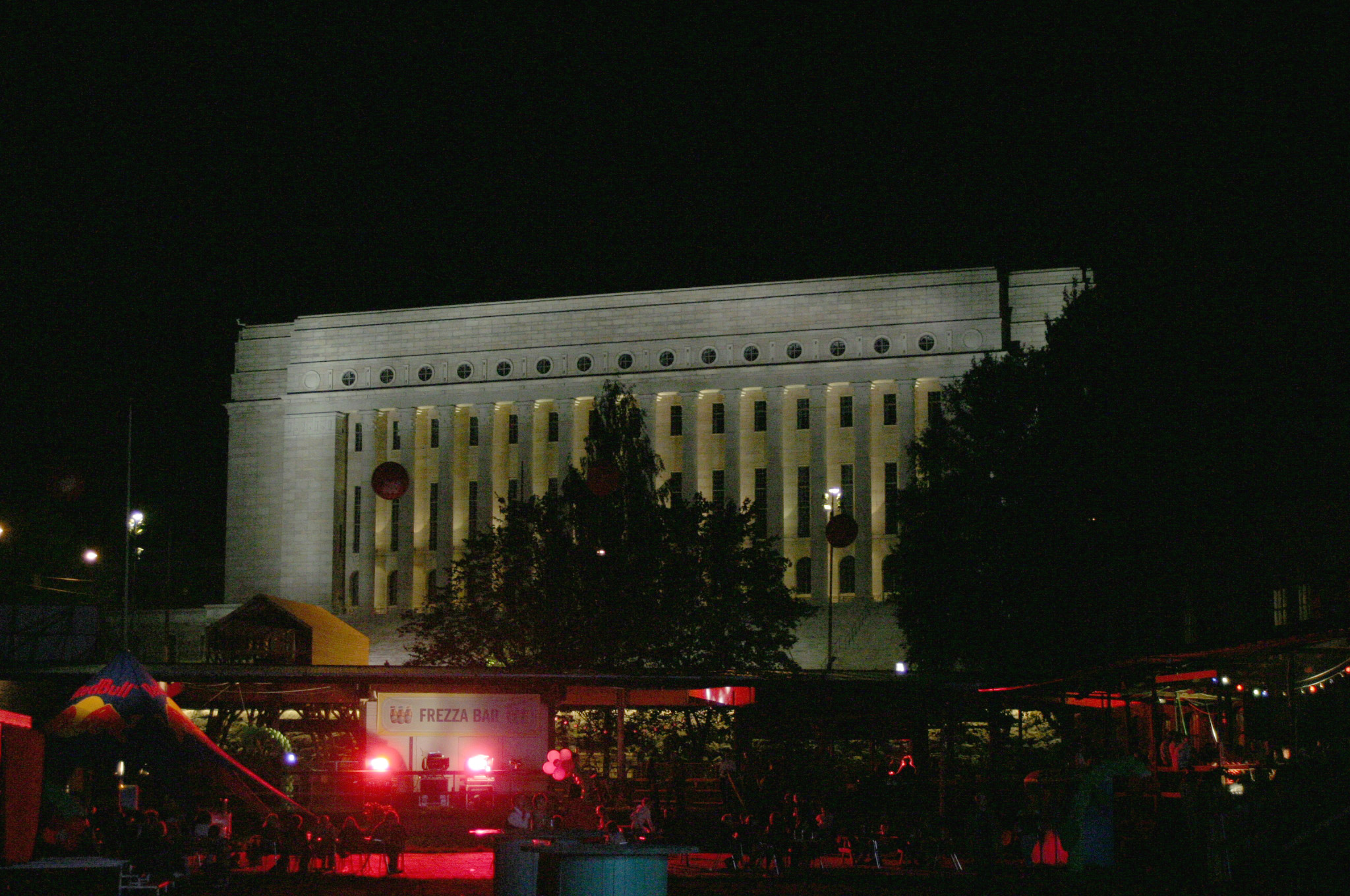 The festival's name was chosen for its ability to convey the new mood that had taken over Helsinki and to promote innovative urban development. The visual identity needed to make an impact, too; Jani "Alfons" Tolin created the first-ever Flow Festival poster.
In addition to interesting and current tunes, Flow04 wanted to create a unique atmosphere and space itself. The main draws were the central location, pleasant festival site, visually engaging design details, intriguing extracurricular programming and, of course, delicious food & drink.
The first-ever Flow was received with excitement and saluted for its atmosphere and variety of experiences. The success laid the ground for the decision to organise Flow again the following year.
Continue your trip down memory lane:
Browse the archived website:
http://archive.flowfestival.com/2004/index_en.html
Please note that some imagery or links might not work correctly on the archived site.
Flow Festival 2004 artists in alphabetical order:
Club Wahoo! with Leftside Ensemble DJs
Jazzanova
Jori Hulkkonen vs. Nuspirit Helsinki DJs (Lil' Tony & Ender): Made in Detroit
Lifesaver presents: MC Ruudolf, Hypeman Karri Koira & DJ Allekirjoittanut
Lifesaver Record Store DJs Didier, Anonymous, Pirkka & Pablo
Marlena Shaw (live)
Nicola Conte
Norman Jay
Nuspirit Helsinki live featuring Teddy Rok and Guests
Ricky Tick Records presents: DJ Go-Go Antti with August Ekström, Dalindèo live and special guest Nicola Conte
Seiji (Bugz in the Attic) with MC MG
The Five Corners Quintet live
Ty (live)