⟚✹ #FLOWFESTIVAL ❂⩶ ❇✧ #FLOWFESTIVAL ⟚✹ #FLOWFESTIVAL ❂⩶ ❇✧ #FLOWFESTIVAL ⟚✹ #FLOWFESTIVAL ❂⩶ ❇✧ #FLOWFESTIVAL ⟚✹ #FLOWFESTIVAL ❂⩶ ❇✧ #FLOWFESTIVAL ⟚✹ #FLOWFESTIVAL ❂⩶ ❇✧ #FLOWFESTIVAL ⟚✹ #FLOWFESTIVAL ❂⩶ ❇✧ #FLOWFESTIVAL ⟚✹ #FLOWFESTIVAL ❂⩶ ❇✧ #FLOWFESTIVAL ⟚✹ #FLOWFESTIVAL ❂⩶ ❇✧ #FLOWFESTIVAL ⟚✹ #FLOWFESTIVAL ❂⩶ ❇✧ #FLOWFESTIVAL ⟚✹ #FLOWFESTIVAL ❂⩶ ❇✧ #FLOWFESTIVAL ⟚✹ #FLOWFESTIVAL ❂⩶ ❇✧ #FLOWFESTIVAL ⟚✹ #FLOWFESTIVAL ❂⩶ ❇✧ #FLOWFESTIVAL ⟚✹ #FLOWFESTIVAL ❂⩶ ❇✧ #FLOWFESTIVAL ⟚✹ #FLOWFESTIVAL ❂⩶ ❇✧ #FLOWFESTIVAL ⟚✹ #FLOWFESTIVAL ❂⩶ ❇✧ #FLOWFESTIVAL ⟚✹ #FLOWFESTIVAL ❂⩶ ❇✧ #FLOWFESTIVAL ⟚✹ #FLOWFESTIVAL ❂⩶ ❇✧ #FLOWFESTIVAL ⟚✹ #FLOWFESTIVAL ❂⩶ ❇✧ #FLOWFESTIVAL ⟚✹ #FLOWFESTIVAL ❂⩶ ❇✧ #FLOWFESTIVAL ⟚✹ #FLOWFESTIVAL ❂⩶ ❇✧ #FLOWFESTIVAL ⟚✹ #FLOWFESTIVAL ❂⩶ ❇✧ #FLOWFESTIVAL ⟚✹ #FLOWFESTIVAL ❂⩶ ❇✧ #FLOWFESTIVAL ⟚✹ #FLOWFESTIVAL ❂⩶ ❇✧ #FLOWFESTIVAL ⟚✹ #FLOWFESTIVAL ❂⩶ ❇✧ #FLOWFESTIVAL ⟚✹ #FLOWFESTIVAL ❂⩶ ❇✧ #FLOWFESTIVAL ⟚✹ #FLOWFESTIVAL ❂⩶ ❇✧ #FLOWFESTIVAL
2

0

1

4
Where and when? Helsinki, Suvilahti. Helsinki. Over three days, 8.-10.8.2014.
Visitors: 57 500
Stages: 9
Artists: 123
Highlights: OutKast's 20th birthday show, Röyksopp's and Robyn's joint performance, energetic Janelle Monaé, Skrillex, Adel Abidin's three-part artwork
Website: http://archive.flowfestival.com/2014/en/index.html (Please note that some imagery or links might not work correctly on the archived site.)
Flow Festival 2014 enjoyed extreme heat on the second weekend of August. The festival nearly sold out, drawing in 57 500 visitors. The festival's core themes remained the same: exciting and current music, progressive art and sustainable event production. Some of the most emotive moments were served by the 20-year-old rap duo OutKast, the delicate indie rock ambassadors The National, and the uplifting and energetic Janelle Monaé.
Other notable domestic and international names included Yasiin Bey aka Mos Def, Manic Street Preachers, Die Antwoord, Pusha T, Bonobo, Kavinsky, Jessie Ware, DARKSIDE, Skrillex, Jamie xx, Mac DeMarco Slowdive, Slint, Bill Callahan, Action Bronson, Joey Bada$$, MØ, Blood Orange, Real Estate, Little Dragon, Jenny Wilson, Jungle, Tinariwen, Paul Kalkbrenner, Jon Hopkins, Machinedrum, How To Dress Well, Neneh Cherry with RocketNumberNine, Scandinavian Music Group, Nyt Kolisee! live, Kemialliset Ystävät, Noah Kin, Teksti-TV 666, Shivan Dragn, Mr. Peter Hayden and Nicolas Kivilinna. For the full lineup, please see the bottom of the page.
Audience services were further developed and festival food selection grew even further, and in 2014 there were over 30 different food vendors spread over the site. The theme this year was plant-based food, but of course, also omnivores were catered for. Like the previous year, nearly the whole festival area was licensed to serve alcohol, so the bars could spread across the site and the audience could enjoy drinks freely, without separating closures. Friday afternoon was kicked off with Flow Talks Lunch Sessions, which continued into Saturday's early Flow Talks. Talks Sessions was a collaboration between Flow, Demos Helsinki, Slush, Music Finland and Frame.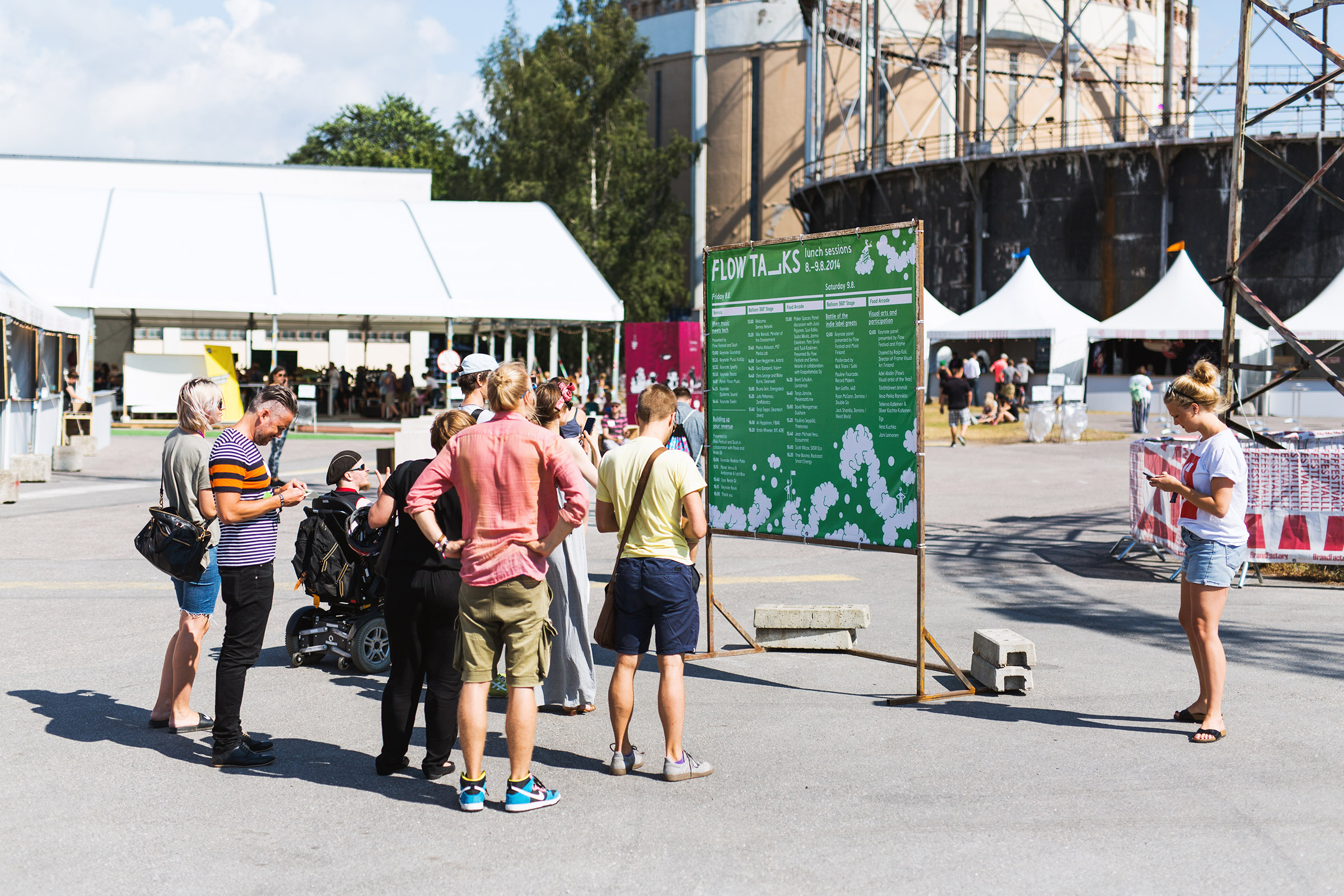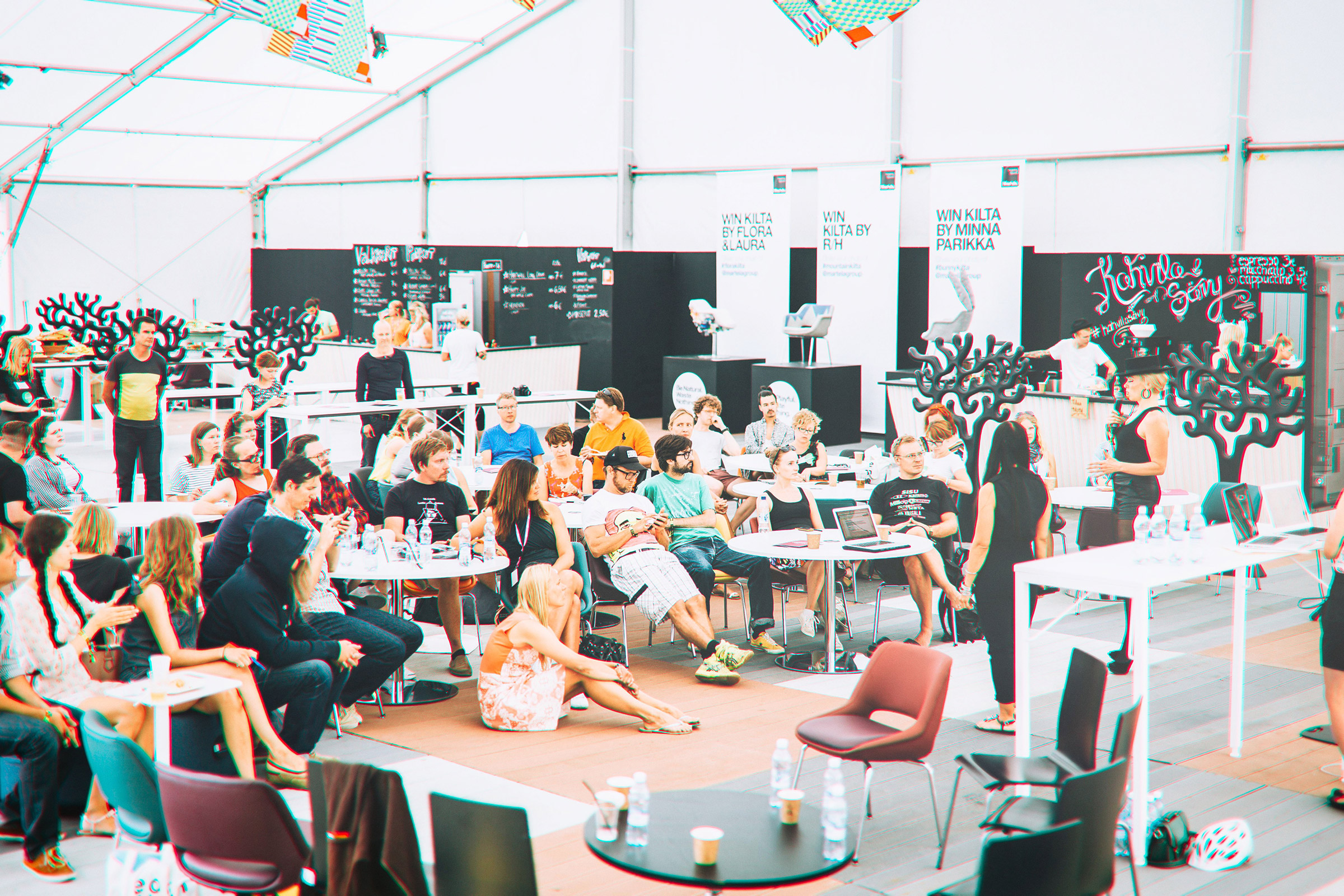 In the Tiivistämö building, a new stage called MixRadio Music Hall was introduced. The popular experimental music program The Other Sound moved to a bigger arena in Voimala, and Film Garage found a new home at Cirko. MixRadio Music Hall specialised in intense underground sounds, from punk and garage to rap and techno. Film Garage screened media art, music videos and a record number of Finnish short films.
Flow's "Visual Artist of the Year" title went to Adel Abidin, whose three-part piece took over, e.g. the tunnel between the gasometers. Abidin's work discussed human rights, discrimination and gender. Other artistic highlights included Landys Roimola's sculpture Goo, built out of industrial plastic waste; graffiti artist Shoe's exhibition; and a robot installation created by Ars Fennica winning artist Anssi Kasitonni, as part of the experimental music concept The Other Sound. Art, music and culture themes continued in Flow's own magazine, both in print and online. WOLF magazine, created by Kasino Creative Studio, was published twice in 2014.
Said about Flow:
«Flow Festival is a fairytale come true.»
– Clash Magazine

«A festival for all the senses and one that successfully manages to be cool and cosy at the same time.»
– The Guardian
Photos: © Jussi Hellsten, Miikka Pirinen, Niklas Sandström, Maija Astikainen, Samuli Pentti, Annikki Valomieli, Riitta Sourander, Tomi Palsa and Tomi Kukkonen.
Continue your trip down memory lane:
Watch photos: See all Flow Festival 2014 photos on Flickr
Read the magazine: Browse the WOLF magazine's #1 ISSUE and #2 ISSUE (in Finnish)
Photo Book: Browse the Flow Festival 2014 Photo Book
Browse the archived website:
http://archive.flowfestival.com/2014/en/index.html
Please note that some imagery or links might not work correctly on the archived site.
Listen to the official Flow Festival 2014 playlist on Spotify:

Flow Festival 2014 artists in alphabetical order:
Action Bronson
Aivovuoto
Aksim
Alina & DJ Koira
Antti Lötjönen Quartet East
Antti Tolvi
Astrid Swan
Baris K (DJ set)
Beastmilk
Big Ups
Bill Callahan
Blood Orange
Bonobo
Calvin Girls
Ceephax Acid Crew (Live)
Circus Helsinki
DARKSIDE (feat. Nicolas Jaar & Dave Harrington)
Death Hawks
Didier (DJ set)
Die Antwoord
DJ Kridlokk
Dj Lene
Eetu Floor & Ystävät
Erkko & Harvest
Esko Routamaa
Eurocrack
Evan Parker
Evian Christ (DJ set)
Femme En Fourrure
Fred P (DJ set)
Gim Kordon
Grateful Däd
Guggenheim Djs
H K Z (Hauschka Kosminen Zeigler)
High Wolf
Hopeajärvi
How To Dress Well
Hurjat silmät
I-F (Intergalactic FM, Viewlexx, Murdercapital) (DJ set)
Iisa
Illum Sphere (DJ set)
Ilona Jäntti
J. Tolvi
Jaakko Eino Kalevi
James Holden
Jamie xx
Janelle Monáe
Jenny Wilson
Jessie Ware
Joey BadA$$
Jon Hopkins
Joose Keskitalo
Jungle
Katerina (DJ set)
Katujen äänet
Kavinsky (Outrun Live)
Kemialliset Ystävät
Käki & Harri Hännikäinen
Lentoliskot
Les Ambassadeurs (feat. Salif Keita, Amadou Bagayoko & Cheick Tidiane Seck)
Little Dragon
Maan
Mac DeMarco
Machinedrum (DJ set)
Magenta Skycode
Manic Street Preachers
Marissa Nadler
Mark Ernestus (DJ set)
Mark Ernestus presents Jeri-Jeri
Miaux
Mirel Wagner
Monopoly Child Star Searchers
Mopo
Mr. Peter Hayden
Must Have!
Mø
Neneh Cherry with RocketNumberNine
New Hi-Fi Soundsystem
Nicolas Kivilinna
Nina Persson
Noah Kin
Nuslux
Nyt Kolisee -Live!
Optimo (DJ set)
OutKast
Paperi T & Khid
Paska Sohva DJs
Paul Kalkbrenner
Peanut Butter Wolf (DJ set)
Phantom
Pietarin Spektaakkeli
Plain Ride
Poliça
Pusha T
Rauhatäti
Real Estate
Red Bull Music Academy Session: Fred P
Red Bull Music Academy Session: Peanut Butter Wolf
Riitaoja
Risto
Ron Morelli (DJ set)
Roy Hargrove Quintet
Röyksopp & Robyn Do It Again 2014
Samuli Kemppi
Sarah Kivi & Non-Orchestra
Sasse & Jori Hulkkonen (DJ set)
Scandinavian Music Group * T2 Flow Special *
Shivan Dragn
Siinai
Sin Cos Tan
Skrillex
Slint
Slowdive
Sound & Fury
St. Lucia
Tama Sumo (DJ set)
Teksti-TV 666
The National
Tinariwen
Tomoko Sauvage
Torttila Miljoona & 2013
Trevor Deep Jr (DJ set)
Tuomo
We Love Helsinki
Yasiin Bey aka Mos Def
Young Marco (DJ set)