2

0

0

5
Where and when? VR warehouses, Helsinki. Over two days, 19.-20.8.2005.
Visitors: 5000
Stages: 4
Artists: 16
Highlights: Taking over the old railway warehouse again, Flow Festival expanded and brought many international artists to Finland for the very first time.
Website: http://archive.flowfestival.com/2005/ (Please note that some imagery or links might not work correctly on the archived site.)
After the successful first year, Nuspirit Helsinki Collective decided to proceed in event production in the following year. The core idea was the same: offer quality soul, jazz, folk and current club music in a unique and interesting urban setting. Flow05 took place over two days, at the railway warehouse in the heart of Helsinki, on the 19th and 20th of August 2005.
The programming included stylish soul and acoustic jazz, as well as fresh and innovative electronic beats. For many of the artists, this was their first-ever visit to Finland. On the lineup were e.g. British soul music icon Omar, fantastic funk singer and "Soul Sister #1" Marva Whitney of the James Brown Revue, Philadelphian multi-genre producer-DJ King Britt, and a multi-Grammy nominee jazz vocalist Mark Murphy together with local The Five Corners Quintet. The DJ lineup focused primarily on the New York sound, spearheaded by the American DJ culture icons Kenny 'Dope' Gonzalez and DJ Spinna. For the full lineup, please see the bottom of the page.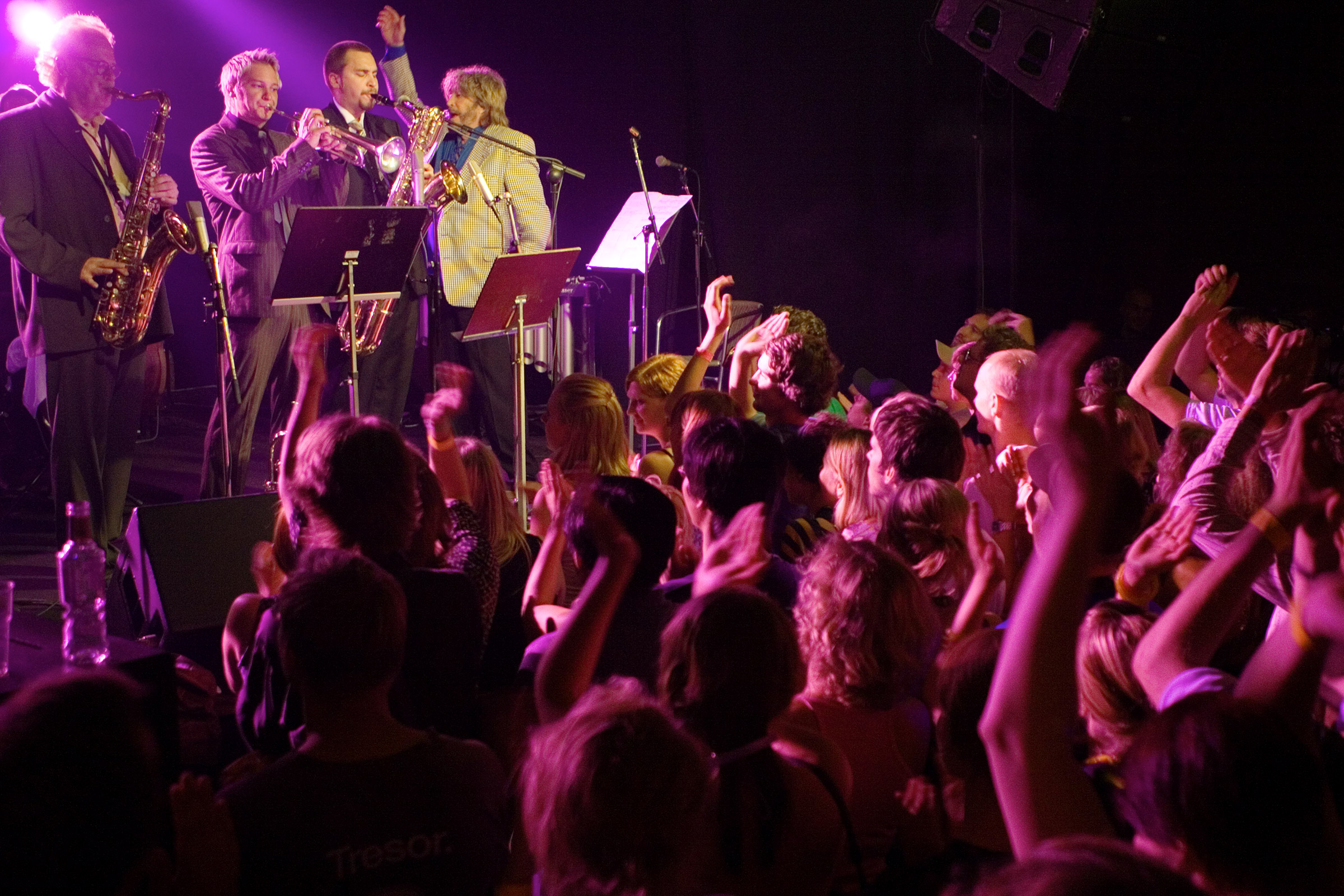 The festival site expanded from the previous year and took over the second wing of the railway warehouse. In addition to music, the courtyard saw performance art, and Asian food vendors emerged to feed the hungry. The visual identity was taken a step further: a 40-square meter mega screen was outside, and indoors, most surfaces were used as screens for artistic projections. The creators included Amfibio.org, Visual Systeemi and Xploitec.org collectives, run by local artists from media art, cinema art, technology and graphic design. Flow05 VJ-art crew included Maippi, Teemu K, *jen, Mesq, Naive, Hahmo, PHOQ, 304 and Pseudotoad Laboratories.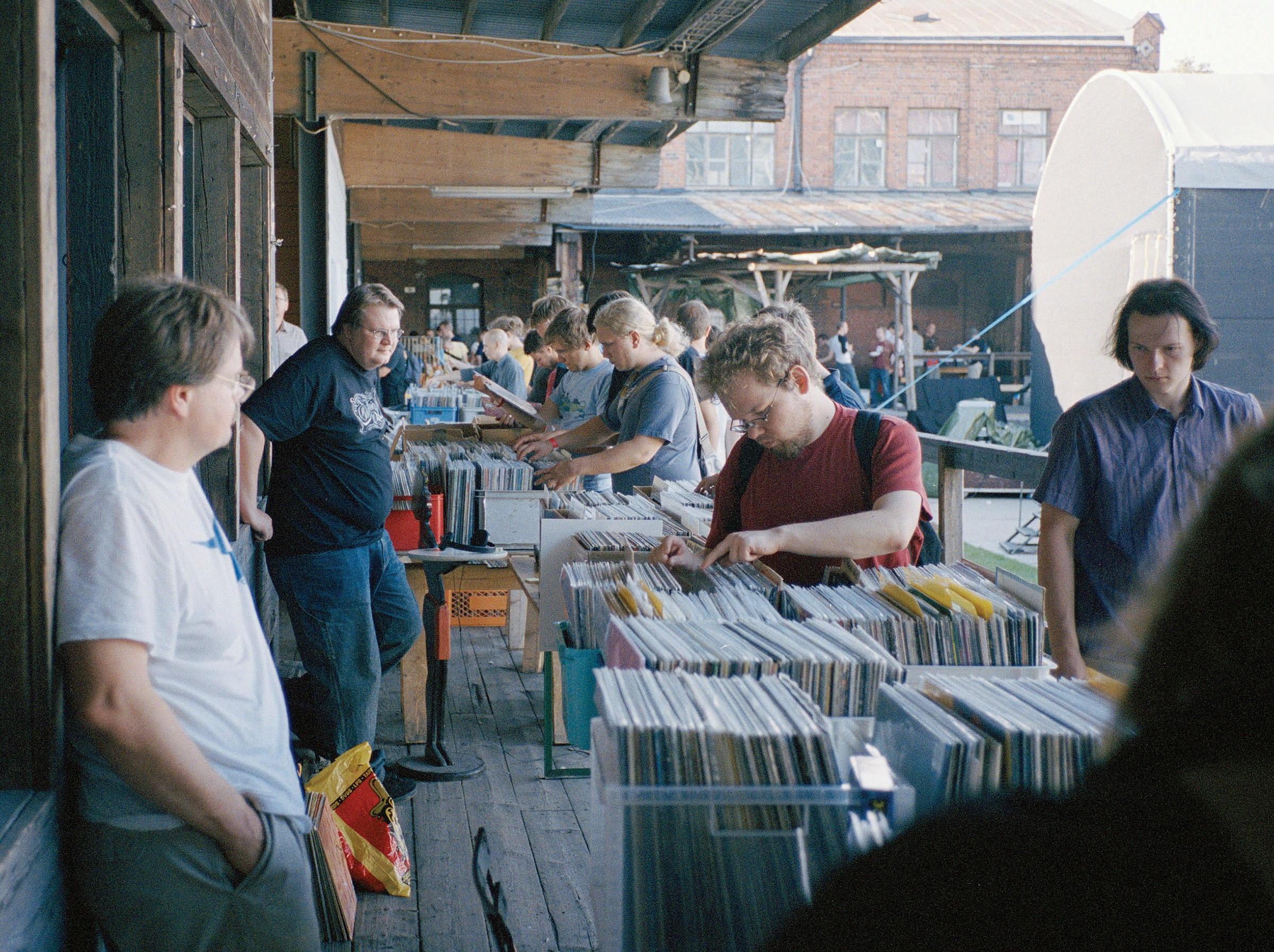 This was always going to be the last Flow at its current location, and the search for a new home had already begun. The legendary railway warehouse's story came to a dramatic end when the site was largely destroyed in a fire – only a few days before the warehouse was planned to be taken down.
Said about Flow:
«If ever there was an argument against musical pigeonholing, Flow05 was it. The unifying principle was rhythm, and on offer was an intriguing mix of deep techno, soul, electronic music, acoustic jazz and a whole lot more.»
– The Observer

«The Flow event is a highlight on the international festival calendar.»
– Blues & Soul Magazine

«Flow is quite possibly the best festival to emerge from Europe in the last few years.»
-Undercover Magazine
Photos: © Ira Launiala & Mikko Ryhänen
Continue your trip down memory lane:
Browse the archived Flow05 website:
http://archive.flowfestival.com/2005/
Please note that some imagery or links might not work correctly on the archived site.
Flow Festival 2005 artists in alphabetical order:
DJ Anonymous
Dj Didier
DJ Kenny "Dope" Gonzalez
DJ Osunlade
DJ Spinna
Husky Rescue Big Band Special
Inner City Of Berlin feat. Âme & Dixon
JazzCotech Dancers
King Britt Presents Sister Gertrude Morgan
Lifesaver vs Wahoo vs Straight No Chaser Magazine DJ'S
Made In Detroit feat. Jori Hulkkonen, Lil Tony & Ender
Mark Murphy with The Five Corners Quintet
Marva Whitney
Omar
The Five Corners Quintet feat. Okou
Ville Walo & Kalle Hakkarainen: Odotustila