✸✽✦ #FLOWFESTIVAL ●❚❢✠ #FLOWFESTIVAL ✢⬟❢✽✦ #FLOWFESTIVAL ✢✦✽ #FLOWFESTIVAL ✸✽✦ #FLOWFESTIVAL ●❚❢✠ #FLOWFESTIVAL ✢⬟❢✽✦ #FLOWFESTIVAL ✢✦✽ #FLOWFESTIVAL ✸✽✦ #FLOWFESTIVAL ●❚❢✠ #FLOWFESTIVAL ✢⬟❢✽✦ #FLOWFESTIVAL ✢✦✽ #FLOWFESTIVAL ✸✽✦ #FLOWFESTIVAL ●❚❢✠ #FLOWFESTIVAL ✢⬟❢✽✦ #FLOWFESTIVAL ✢✦✽ #FLOWFESTIVAL ✸✽✦ #FLOWFESTIVAL ●❚❢✠ #FLOWFESTIVAL ✢⬟❢✽✦ #FLOWFESTIVAL ✢✦✽ #FLOWFESTIVAL ✸✽✦ #FLOWFESTIVAL ●❚❢✠ #FLOWFESTIVAL ✢⬟❢✽✦ #FLOWFESTIVAL ✢✦✽ #FLOWFESTIVAL ✸✽✦ #FLOWFESTIVAL ●❚❢✠ #FLOWFESTIVAL ✢⬟❢✽✦ #FLOWFESTIVAL ✢✦✽ #FLOWFESTIVAL ✸✽✦ #FLOWFESTIVAL ●❚❢✠ #FLOWFESTIVAL ✢⬟❢✽✦ #FLOWFESTIVAL ✢✦✽ #FLOWFESTIVAL ✸✽✦ #FLOWFESTIVAL ●❚❢✠ #FLOWFESTIVAL ✢⬟❢✽✦ #FLOWFESTIVAL ✢✦✽ #FLOWFESTIVAL ✸✽✦ #FLOWFESTIVAL ●❚❢✠ #FLOWFESTIVAL ✢⬟❢✽✦ #FLOWFESTIVAL ✢✦✽ #FLOWFESTIVAL ✸✽✦ #FLOWFESTIVAL ●❚❢✠ #FLOWFESTIVAL ✢⬟❢✽✦ #FLOWFESTIVAL ✢✦✽ #FLOWFESTIVAL ✸✽✦ #FLOWFESTIVAL ●❚❢✠ #FLOWFESTIVAL ✢⬟❢✽✦ #FLOWFESTIVAL ✢✦✽ #FLOWFESTIVAL ✸✽✦ #FLOWFESTIVAL ●❚❢✠ #FLOWFESTIVAL ✢⬟❢✽✦ #FLOWFESTIVAL ✢✦✽ #FLOWFESTIVAL
R

e

s

i

d

e

n

t

i

n

f

o
Flow Festival is a music and urban culture festival organized on August 10-12 in the Suvilahti former power plant and the surrounding area. The festival's program includes music, visual and installation art and films. Organized for the fifteenth time, Flow is also committed to offering culinary experiences and a cozy venue.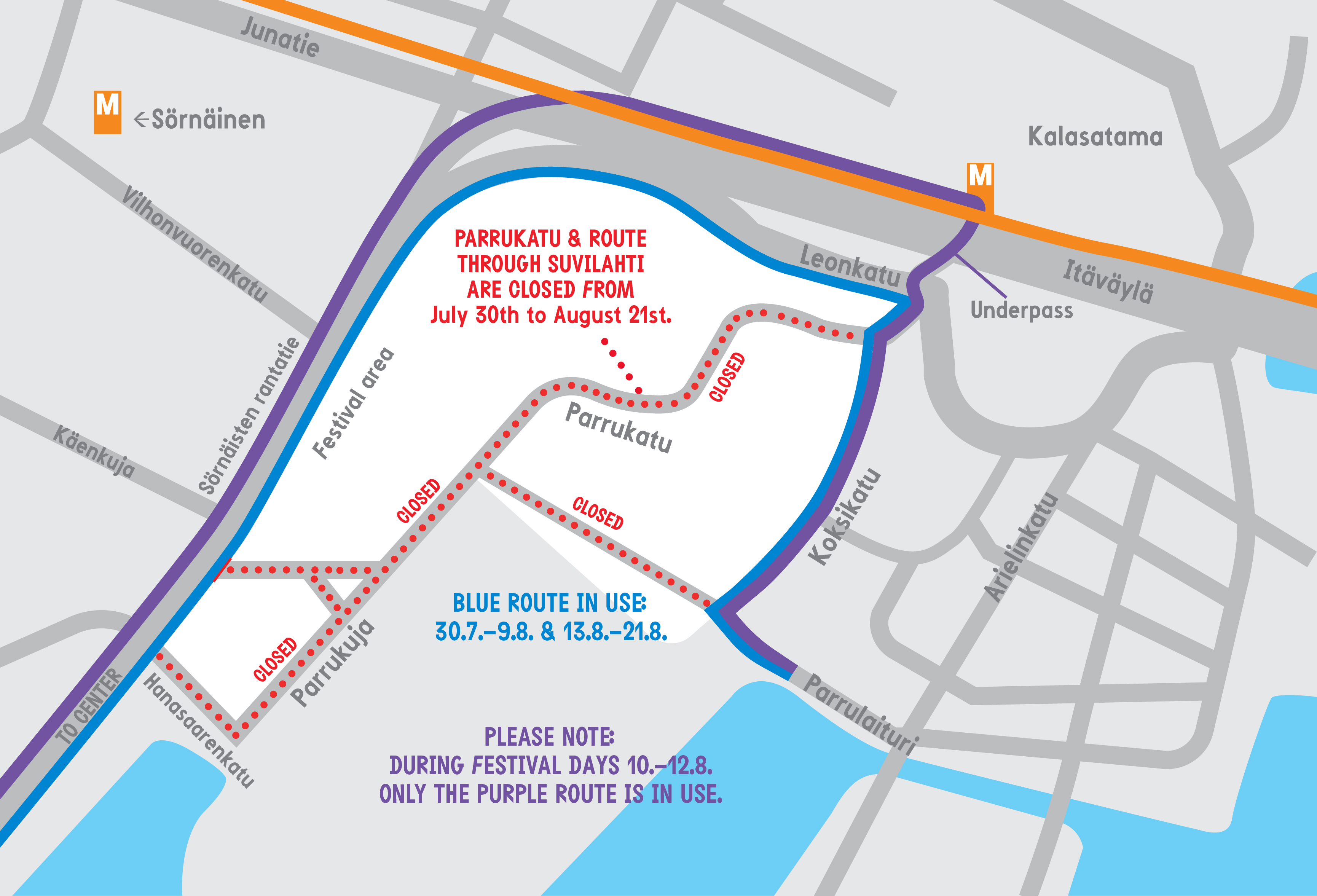 Due to Flow Festival's construction and teardown, there are exceptions in traffic around the Suvilahti area from July 30 to August 21. Between these dates the festival area is a construction site, and consequently Parrukatu and Hanasaarenkatu are closed to all traffic. Similarly the pedestrian street through Suvilahti is closed. A pedestrian diversion route will follow the northern part of the area on Sörnäisten rantatie, Leonkatu and Koksikatu (see the map). Exceptionally, on August 10-12 the route leads from Sörnäisten rantatie to Koksikatu through the Itäväylä underpass (see the map).
The festival will bring over 25 000 daily visitors to the area. The visitors will mainly arrive by public transportation, bike or foot. We work with the police to assure that the procession of a large number of people will go as smoothly as possible. All traffic arrangements have been carefully planned so that both the festival goers and the residents of the area can travel safely and easily.
We follow the regulations on volume levels and concert schedules issued by the Finnish Environment Institute. We will also carry out noise measurements in the surrounding area according to guidelines. On Friday and Saturday the concerts on the Main Stage finish at 12am, the concerts in the tent stages at 1am, and the other program at 1.30am. On Sunday, all program will finish by 12am. In addition to the concerts, occasional sound system tests will be made daily between 9am and 9pm during the festival week, starting from Wednesday, August 8.
We thank you for your understanding regarding the arrangements and wish everyone welcome to Flow Festival 2018!
For more information:
office@flowfestival.com
With remarks concerning the temporary arrangements during the festival, you can contact the Flow Festival's office on +358 41 743 0011.
With kind regards,
Flow Festival staff
Update 1.8.2018:
The roadwork on Vilhonvuorenkatu's and Sörnäisten rantatie's intersection was scheduled to be completed by Monday, July 30. The city of Helsinki has assured that the pedestrian route at the crossroad will be opened during the next few days, thus easing the situation in that respect.