⟚⠅✹ #FLOWFESTIVAL ❂⩶ ❇✧ #FLOWFESTIVAL ⟚⠅✹ #FLOWFESTIVAL ❂⩶ ❇✧ #FLOWFESTIVAL ⟚⠅✹ #FLOWFESTIVAL ❂⩶ ❇✧ #FLOWFESTIVAL ⟚⠅✹ #FLOWFESTIVAL ❂⩶ ❇✧ #FLOWFESTIVAL ⟚⠅✹ #FLOWFESTIVAL ❂⩶ ❇✧ #FLOWFESTIVAL ⟚⠅✹ #FLOWFESTIVAL ❂⩶ ❇✧ #FLOWFESTIVAL ⟚⠅✹ #FLOWFESTIVAL ❂⩶ ❇✧ #FLOWFESTIVAL ⟚⠅✹ #FLOWFESTIVAL ❂⩶ ❇✧ #FLOWFESTIVAL ⟚⠅✹ #FLOWFESTIVAL ❂⩶ ❇✧ #FLOWFESTIVAL ⟚⠅✹ #FLOWFESTIVAL ❂⩶ ❇✧ #FLOWFESTIVAL ⟚⠅✹ #FLOWFESTIVAL ❂⩶ ❇✧ #FLOWFESTIVAL ⟚⠅✹ #FLOWFESTIVAL ❂⩶ ❇✧ #FLOWFESTIVAL ⟚⠅✹ #FLOWFESTIVAL ❂⩶ ❇✧ #FLOWFESTIVAL ⟚⠅✹ #FLOWFESTIVAL ❂⩶ ❇✧ #FLOWFESTIVAL ⟚⠅✹ #FLOWFESTIVAL ❂⩶ ❇✧ #FLOWFESTIVAL ⟚⠅✹ #FLOWFESTIVAL ❂⩶ ❇✧ #FLOWFESTIVAL ⟚⠅✹ #FLOWFESTIVAL ❂⩶ ❇✧ #FLOWFESTIVAL ⟚⠅✹ #FLOWFESTIVAL ❂⩶ ❇✧ #FLOWFESTIVAL ⟚⠅✹ #FLOWFESTIVAL ❂⩶ ❇✧ #FLOWFESTIVAL ⟚⠅✹ #FLOWFESTIVAL ❂⩶ ❇✧ #FLOWFESTIVAL ⟚⠅✹ #FLOWFESTIVAL ❂⩶ ❇✧ #FLOWFESTIVAL ⟚⠅✹ #FLOWFESTIVAL ❂⩶ ❇✧ #FLOWFESTIVAL ⟚⠅✹ #FLOWFESTIVAL ❂⩶ ❇✧ #FLOWFESTIVAL ⟚⠅✹ #FLOWFESTIVAL ❂⩶ ❇✧ #FLOWFESTIVAL ⟚⠅✹ #FLOWFESTIVAL ❂⩶ ❇✧ #FLOWFESTIVAL ⟚⠅✹ #FLOWFESTIVAL ❂⩶ ❇✧ #FLOWFESTIVAL
S

u

s

t

a

i

n

a

b

l

e

F

l

o

w
Sustainable Flow is Flow Festival's own responsibility program, ensuring that the festival carries out its responsibilities related to the environment as well as the social aspects of sustainability.
Sustainable Flow is:
Zero carbon footprint
Green electricity
100 % reused materials
Sustainable Meals
Smart transportation
Protecting Baltic Sea
Equality
Safety and accessibility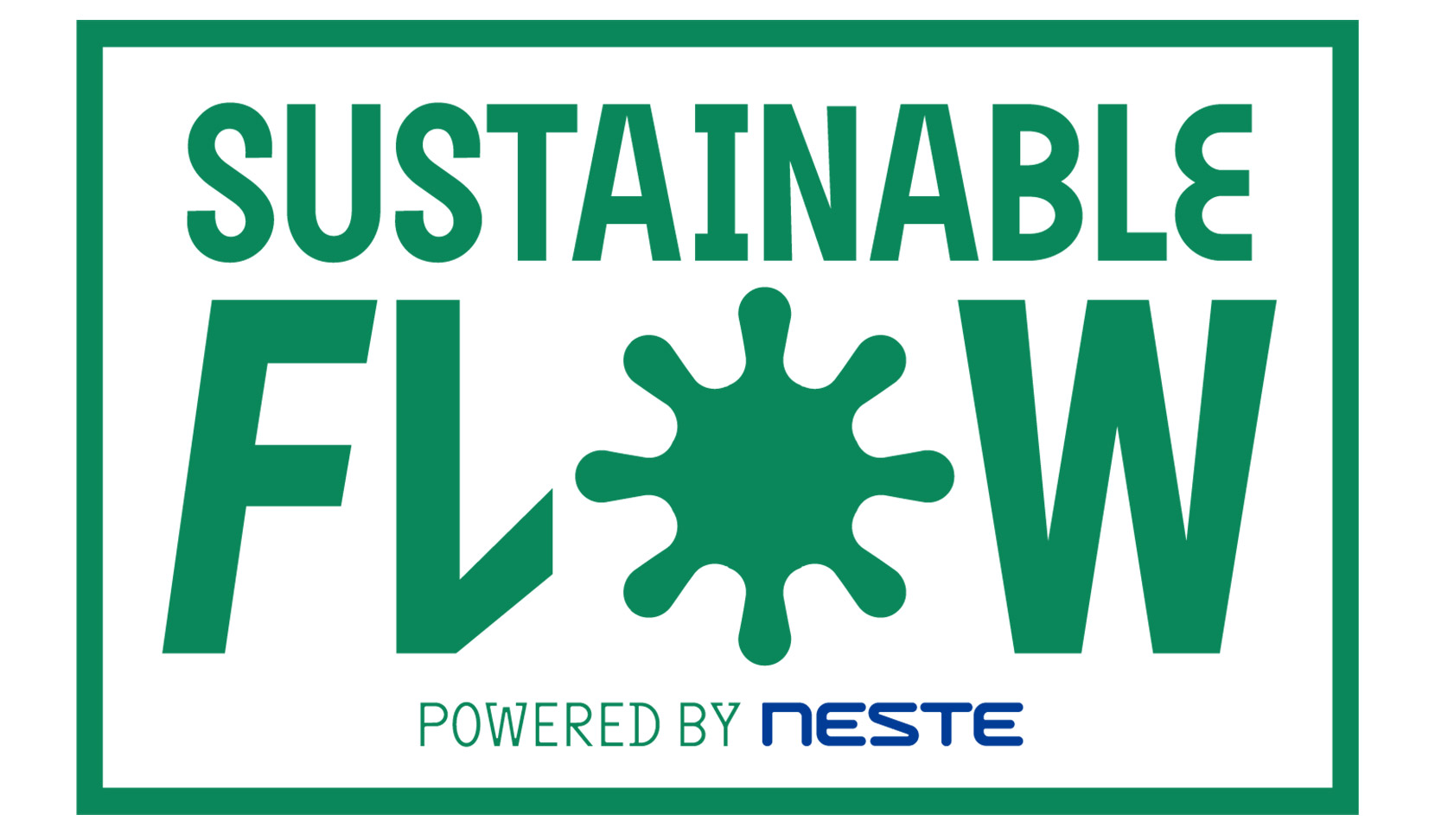 Zero carbon footprint
Flow Festival is one of the world's first carbon neutral festivals. We calculate the total size of the carbon footprint of the festival production annually and aim to minimise the emissions each year. The carbon footprint is calculated in cooperation with Pöyry Finland Oy, and it has been compensated with official standardized projects since 2009.
Since 2012, Flow Festival has also been using the EcoCompass environmental management system.
Green electricity
Flow Festival's energy production needs are mostly covered by using Neste MY Renewable Diesel™, which reduces the festival's carbon footprint considerably. Neste MY reduces greenhouse gas emissions by up to 90% as well as helps to improve the air quality on the festival grounds since the use of biodiesel reduces odours and particulate matter in the immediate vicinity. The biodiesel is fully produced from renewable and sustainable feedstocks, such as inedible waste from food production.  This year, the cooperation with Neste has given birth also to a new concept, the Sustainability Rider. It presents a responsible option for traditional artist riders and encourages the artists in making sustainable choices. In addition, Flow uses carbon neutral, domestic EKOenergia certified electricity produced with wind power.
In addition, Flow uses carbon neutral, domestic EKOenergia certified electricity produced with wind power.
In 2018, Flow managed to decrease its emissions, caused by energy production, by 9.5% from 2017.
100 % reused materials
Flow recycles and reuses all waste produced during the festival, redirecting it either to energy production or to the reuse of waste materials. The goal is to further minimise the amount of waste for incineration and maximise the share of biowaste and other biodegradable waste products. For example, all cutlery is biodegradable. Further, a strategy, design and technology company Reaktor offers all festival visitors an opportunity to make the festival experience less harmful for the environment. By donating their drink container at a Reaktor return point, visitors can donate the €1 deposit to reforestation project. For every drink container donated, one tree will be planted, removing one ton of CO2 from the atmosphere. In addition, you can put your recycling skills to test in HSY's Wastescape Room at Flow Festival.
In addition, the festival seeks sustainable and durable solutions for the different stages of event production. For example, we select furniture, fittings, and decorations that use recyclable, reusable and long-lasting materials. In decking/patio materials, we use UPM ProFi® composite made 75% from recycled waste, minimising waste to landfill and prolonging the raw material lifecycle. In addition, we use only leftover paint from Teknos.
Even while the festival's attendance grew in 2018 by some 3,000 visitors per day, the waste volume fell by 21% from last year, and as before a full 100 per cent of the trash was utilised.
Sustainable Meals
Flow guides and educates its food vendors to serving ecological dishes. We favour organic and locally produced, pure and domestic ingredients as well as vegetarian food. The caterers are provided with Sustainable Meal guidelines that are developed according to the principles of sustainable catering. They also receive an evaluation form focusing on, for example, the origin and ethical standards of the ingredients used, the energy efficiency of food production, logistics, packaging materials as well as the use of local, organic and seasonal products. Following these guidelines, caterers offer a special Sustainable Meal option on their menu. Among all the Sustainable Meals served at the festival, a winner is chosen based on a sustainability evaluation and the reviews of a taste panel.
Most significantly for the environmental impact of food sales, visitors of Flow Festival 2018 purchased 46 per cent vegetarian or vegan dishes. Due to the huge popularity and customer feedback, we will further increase the amount of plant-based fare in 2019.
In addition, Flow Festival encourages festival visitors to use ecologic and high-quality tap water instead of bottled water. You can fill up your bottle at the HSY water supply point or at the other water supply points of the festival area. By drinking tap water, you can reduce plastic waste and your carbon footprint. The carbon footprint of water treatment and distribution in the Helsinki Metropolitan Area is only 0.7 kg of CO2 per resident annually, which corresponds with driving a car ca. 4 km a year.
Smart transportation
Flow Festival is held in Suvilahti, close to Helsinki city centre. It is easy to access Flow by bike, on foot, or by public transport. There is a free bicycle parking area near the festival site, where you can leave your bike during the festival. Flow Festival does not offer any parking spaces for private cars. Additional public transport services will be organised by HSL during the festival weekend. For example, the night metro will run 2 hours longer than normal. We also aim to avoid long distances when it comes to deliveries and subcontractors, and we favour local suppliers as often as possible.
Protecting The Baltic Sea
The Baltic Sea is one of the most polluted sea areas in the world. For several years, Flow has offered a chance to support the protection work of the Baltic Sea with a donation while purchasing a festival ticket.
In 2018, the donations amounting to 11,901 euros, were accounted in full to the John Nurminen Foundation and its Baltic Sea Protection project. A donation of only 5 euros can fund the removal of up to 25 kilograms of algae. Read more about the John Nurminen Foundation and their Baltic Sea actions here.
Equality
Flow Festival is committed to forwarding the principles of justice, equity and equality. Everyone is welcomed to the festival just as they are, and we tolerate no form of discrimination. We expect our entire staff, as well as our associates and distributors to adhere to the same values. For example, this year we work with Startup Refugees, a non-profit voluntary network supporting refugees with employment and entrepreneurship.
In addition, Flow Festival promotes the establishment of an equal music industry. For instance, with the project of the equal future of the music industry in Finland, Flow commits to creating an equality and non-discrimination plan and applying it in practice. Flow also participates in the European Keychange initiative, which aims to improve women's standing in the music industry. Among other things, Keychange participants commit to choosing an equal amount of male and female performers by 2022.
Safety and accessibility
Flow is known as a safe festival. Together with the festivalgoers we create an event everyone can safely attend. In case of any questions about the safety of the festival area and possible other matters, such as experiencing or witnessing distressing or inappropriate behaviour, you can approach the nearest member of the safety personnel. Customers can also receive help at the first aid point, where the Finnish Red Cross first aid personnel are trained to respond to diverse situations including health first aid.
The festival area is designed to be accessible, taking into consideration visitors with reduced mobility. Read more about accessibility in the FAQ section. We are continually improving the event to make it as accessible as possible, and welcome all improvement suggestions to office AT flowfestival.com.